Husain, Mohammad Sharif (1934-2007) educationist, progressive thinker social activist was born on 1 January 1934 at village Khorki near the district town of Jessore. He was the only child of Shafiuddin Ahmed and Meherunnessa Khatun. A progressive social activist, Sharif Husain was instrumental in many social development activities. He completed matriculation from jessore zila school in 1949 securing first division. Later he passed IA with first division and BA from michael madhusudan college in 1951 and 1953 respectively. He obtained MA from the university of dhaka in 1956 securing the first class first position from the Department of Islamic History and Culture. He participated in the language movement of 1948 and 1952, and was imprisoned several times. He was the office secretary of Jessore District Awami League during 1956-57.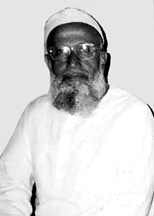 Mohammad Sharif Hossain worked as a Lecturer in Michael Madhusudan College since 1962 to 1975. He then served as a professor in Government Brajalal College, Khulna from 1975 to 1983 and worked as the principal of Michael Madhusudan College during 1989-90. He retired in 1991.
Sharif Hossain served as a secretary of Jessore Public Library (Presently known Jessore Institute Public Library) from 1963 to 1983 alongside teaching. He introduced book fair for the first time in Jessore in 1967. Hossain was the pioneer organiser of book fair in different academic institutions, and set up a book bank for the poor and meritorious students. He encouraged the common people of rural area to read book by the book bank and mobile library. He collected many rare manuscripts, mostly written on palmer leaves, which are being preserved in the Jessore Public Library.
Sharif Hossain took an initiative to introduce mass education programme by establishing the first ever-private night school in Jessore in 1968. He also founded several primary and secondary schools in the district. He founded an orphanage named Anjuman-e-khalequia and Lillah Trust over a land of about 3.7 acres in his own locality with the help Shah Abdul Matin, of peer of Khorki and principal Abdul Hai of Michael Madhusudan College. He donated his own land property of 1.67 acres to the orphanage. The orphanage is a 3-storeyed building with 14 flats, office complex and a student's hostel. All the flats were rented out for raising fund to meet up recurrent expenditure of the inmates of the orphanage. At present there are 110 orphans here and the authority bears all the expenses for the fooding, lodging, education and treatment.
In 1994, Mohammad Sharif Hossain founded a non-political, non-profitable, non-communal co-operative organisation called Sandipan. The infrastructure of the organisation Sandipan Bhawan was built up in the courtyard of his own residence. It conducts multilateral human development programmes with a focus on improvement of female children and their education. The Sandipan Bhavan has a wing named Women Development Centre where 70 to 75 girl students of college are provided with accommodation at a nominal fee. The centre extends a 3-month long training course on tailoring to the poor, helpless and distressed women to make them self-reliant. The centre also imparts training to women of rural areas through its moble-training units. There is a girl's orphanage in the Sandipan Bhavan. Sandipan authority bears all the expenses for their accommodation, food, education, medicare and other requirements. Under an exclusive home support programme, Sandipan also raise 15 selected orphans. It has a coaching project under which 52 coaching centres were set up in various places of the district. These centres provide elementary teaching to distressed students free of cost.'
Sandipan implements another project for the farmers to produce organic crop. Hossain took up this initiative to save the lives of ordinary people from the threat of grains and vegetables yielded with chemical fertiliser as well as pesticide. The growers are made conscious about the adverse effect of contaminated crop on bio-diversity including human health through a series of meetings in the mosques of rural area.
'Mohammad Sharif Hossain also founded a day-care centre in Dhaka to accommodate the children of working women specially who works as domestic aids. The centre looks after 60 children of domestic worker mothers free of cost from 8 am to 5 pm daily. The government of Bangladesh awarded Ekushey Padak to Mohammad Sharif Hossain for his outstanding contribution to the society. He actively took part in the Jessore District Peasants Association in 1967and he had to suffer an imprisonment for that reason. During the war of liberation the Pakistani government confined him for his role in the liberation war and was awarded death sentence. But before execution of the sentence, Jessore became independent and he was duly released.
M Sharif Hossain died on 4 February 2007. [Anwarul Karim]