Hye, Mirza Abdul (1919-1984) fiction writer. Mirza Abu Musa Abdul Hye was born on 1 December 1919 in the village of Abda of Habiganj subdivision in Sylhet.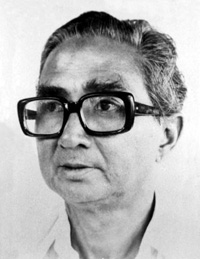 His father, Mirza Abdul Hakim, was a LMF physician. Abdul Hye passed the Matriculation examination in 1937 from Sylhet Government High School. He completed ISc in 1939 and BSc in 1942 from Murari Chand College.
In 1943 he joined the Assam Provincial Supply Department as an inspector. He qualified in the Civil Service Examination of East Pakistan in 1954 and became deputy magistrate in 1955. In 1964 he was posted to the Trade and Commerce Ministry in Islamabad and continued to serve there up to 1972. In 1973 he returned to Bangladesh and joined the Bangladesh Trading Corporation, Dhaka. He was promoted to the rank of deputy secretary in 1975 and retired from that post in 1978.
Abdul Hye's writings began to appear in different magazines from 1940. His short stories have been collected in Chhaya Prachchhaya (1976) and Bisforan (1978). Among his novels are Phire Chalo (1979), Tomar Pataka (1981) and Yamanis Sangbad (1984). Phire Chalo is a popular novel written on the war of liberation. He passed away on 23 September 1984 in Dhaka. [Soaib Ahmed Gibran]