Ibrahim, Mohammad (1911-1989) physician, teacher, organizer. Born in Murshidabad, India, he spent the major part of his life in the Government Health Services in different key positions after getting the MB degree in 1938 and becoming MRCP in 1949. He was made an FCCP in 1950. Mohammad Ibrahim also worked as Chairman of the Medical Research Council and Chairman of the Council of Scientific Research in Pakistan. He was the founder of the Diabetic Association in Dhaka (1956) and in Karachi and Lahore, West Pakistan (1964).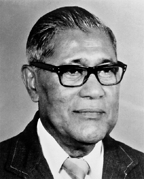 He, along with a group of social workers, established the Diabetic Association of Bangladesh (DAB) in 1956 and in 1957 set up an out-patients clinic at Segun Bagicha, Dhaka, for the diabetics. He succeeded in establishing the diabetes health-care and research institute complex, named the Bangladesh Institute of Research and Rehabilitation in Diabetes, Endocrine and Metabolic Disorders (birdem) at Shahbag, Dhaka, in 1980 where the out-patients centre of the Bangladesh Diabetic Association was shifted.
The institute is housed in two large buildings, named the Ibrahim Memorial Diabetes Centre, after his death in 1989. To develop trained and specialized manpower, he also established an Academy in BIRDEM for postgraduate education in Diabetes, Endocrine and Metabolism (DEM). It has been acclaimed as a model for South East Asia. Diabetes care centres began to be established all over the country with local entrepreneurs and now there are branches of the Bangladesh Diabetic Association in all the districts of the country. In recognition of its innovative, extensive and high quality services BIRDEM was designated in 1982 as a 'WHO-Collaborating Centre for Developing Community-oriented Programmes for Prevention and Control of Diabetes'. It is the first such centre in Asia.
For over three decades, Mohammad Ibrahim succeeded in generating awareness on diabetes in the country through free-of-cost quality services, health education, and motivation. He also established the Bangladesh Institute of Research and Training for Applied Nutrition (BIRTAN) and Rehabilitation and Vocational Training Centre in Jurain, a semi-urban locality about 6 km from Dhaka, to develop low-cost nutrition, and to give vocational training to poor and unemployed diabetics.
Mohammad Ibrahim was also involved in the care of the old and the aged. He was the chairman of the Bangladesh Association of Geriatrics during 1978-89 and helped to set up the Institute of Geriatric Medicine and Research. He was also Chairman of the Retired Government Employees Welfare Association from 1976-88. For his work on the old and the aged, he was elected a Member of the Executive Committee of the International Federation of the Aged, London. He was appointed national professor by the Bangladesh government.
Mohammad Ibrahim also took keen interest in family planning. His involvement began as a founder member of the Family Planning Association of Bangladesh, which first started its programme in this country in the mid-fifties. He made his real impact as the Adviser to the President, with the rank of Minister, in-charge of the Ministry of Health and Population Control, in the mid-1970's. He was instrumental in formulating the population control policy of the Government for the first time and introduced the National Population Council. Dr Ibrahim earlier introduced family planning as a component of his applied nutrition programme at BIRTAN and also set up a family planning section at BIRDEM for motivational work.
In recognition of his dedicated, innovative, and outstanding contributions in the health and social sectors, Mohammad Ibrahim received numerous prizes, medals and honor from different organisations. Some of such awards are Swadhinata Padak (Independence Day Gold Medal), Government of the People's Republic of Bangladesh (1979); gold medal for contribution to public welfare and medical and social service, Begum Zebunnesa and Kazi Mahbubullah Trust (1981); gold medal for contribution to medical and social service, Mahbub Ali Khan Memorial Trust (1985); gold medal for contribution to medical and social service, Comilla Foundation, Comilla (1986); gold medal for contribution to medical and social service, Khan Bahadur Ahsanullah Memorial Trust, Ahsania Mission, Dhaka (1989); and gold medal for contribution to medical and social service, islamic foundation bangladesh (1989). Mohammad Ibrahim was Founder Fellow, Islamic Academy of Sciences, Amman, Jordan (1986). He was also a Fellow, bangla academy (1985).
Mohammad Ibrahim died in Dhaka in 1989. [Siddique Mahmudur Rahman]
See also diabetic association of bangladesh; birdem.