Ibrahim, Nilima (1921-2002) educationist, literateur and social worker, born on 11 October 1921 in a landowning family of Mulghar village in Mollarhat upazila under Bagerhat subdivision of khulna district, daughter of Profulla Kumar Roychowdhury and Kusum Kumari Devi.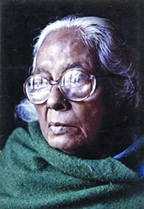 Nilima Ibrahim passed the Matriculation examination (1937) from Khulna Coronation Girls' School and the Intermediate of Arts (1939) from Victoria Institution, Kolkata. She received her BABT from Scottish Church College, Kolkata. In 1943, she passed MA in Bangla from the University of Calcutta. She was the first woman to be awarded the Biharilal Mitra Scholarship in 1945. After completing her MA, Nilima Ibrahim taught at Loretta House (1943-44) and Victoria Institution (1944-45), Kolkata. In December 1945, she married Dr Mohammad Ibrahim, a captain in the Indian Army Medical Corps, and moved to Dhaka, the home of Dr Ibrahim.
In 1957, Nilima Ibrahim joined the Department of Bangla and Sanskrit at the university of dhaka.
She was also doing her doctoral studies and, in 1959, received her PhD degree from the university. The title of her dissertation was Samajik o Rajnaitik Patabhumikay Unabingsha Shatabdir Bangla Natak (Social and Political Perspectives of Nineteenth-Century Bangla Drama).
Nilima Ibrahim became reader in 1970 and professor in 1972. She was chairperson of the Department of Bangla (1971-75), Honorary Director General of bangla academy (1974-75), and Provost of Rokeya Hall, Dhaka University (1971-77).
Nilima Ibrahim was associated with various intellectual bodies and national and international organisations. She was a fellow of Bangla Academy and life member of the asiatic society of bangladesh, Bangladesh Itihash Samiti, Bangladesh Red Cross Society and Bangladesh Family Planning Society. She was president of bangladesh mahila samity and the International Alliance of Women and Associated Country Women of the World (South and Central Asia). She was chairperson of the Board of Governors of Concerned Women for Family Planning.
Nilima Ibrahim was a scholar and published several books on bangla literature, such as, Sharat-Pratibha (The Creative Faculty of Sharatchanda, 1960), Banglar Kavi Madhusudan (Madhushudan, the Poet of Bengal, 1961), Unabingsha Shatabdir Bangali Samaj o Bangla Natak (Bengali Society and Bangla Drama in the Nineteenth Century, 1964), Bangla Natak: Utsa o Dhara (Bangla Drama: Origin and Development, 1972), Begum Rokeya (1974), Bangalimanas o Bangla Sahitya (Bengali Mentality and Bangla Literature, 1987), and Sahitya-Sangskrtir Nana Prasabga (Various Aspects of Literature and Culture, 1991). She also wrote a number of novels: Bish Shataker Meye (Girl of the Twentieth Century, 1958); Ek Path Dui Bank (The Forked Road, 1958), Keyabana Savcharini (Traveller of Keya Forest, 1958), and Bahni Balya (The Bangle of Fire, 1985). Her plays include Due Due Char (Two and Two Make Four, 1964), Je Aranye Alo Nei (The Dark Forest, 1974), Rodjwala Bikel (The Sunburnt Afternoon, 1974), Suryaster Par (After Sunset, 1974). She also published a collection of short stories, Ramna Parke (At Ramna Park, 1964). Among her translations are Eleanor Roosevelt (1955), Kathashilpi James Fenimor Cooper (Storyteller James Fenimore Cooper, 1968) and Bostoner Pathe Pathe (On the Streets of Boston, 1969). She also wrote a travelogue, Shahi Elakar Pathe Pathe (Along the Royal Streets, 1963), and an autobiography, Bindu-Visarga (Dot and Ghost, 1991). However, the book by which Nilima Ibrahim is perhaps best known and by which she will be best remembered is her collection of first person narratives by Bengali women who had been raped in the war of liberation: Ami Virabgana Balchhi (I, the Heroine, Speak, 1st vol, 1996, 2nd vol, 1997).
For her social work and contribution to literature, Nilima Ibrahim was honoured with various awards and medals: Bangla Academy Award (1969), Joy Bangla Award (1973), Michael Madhusudan Award (1987), Lekhika Sangha Award (1989), Justice Abu Sayeed Chowdhury Memorial Medal (1990), Ananya Literary Award (1996), Begum Rokeya Medal (1996), Bangabandhu Award (1997), Sher-e-Bangla Award (1997), Theatre Award (1998) and Ekushey Medal (2000). Nilima Ibrahim died on 18 June 2002 at the age of 81. [Zeenat Imtiaz Ali]