Islam, M Amirul (1918-2001) scientist and educationist. Born in noakhali on 1 September 1918, Amirul Islam passed Matriculation examination in 1936 and Intermediate examination in 1938. He obtained first division in both examinations. Amirul Islam secured first class in BSc (Honours) and MSc respectively in 1941 and 1942 in Chemistry from Dhaka University.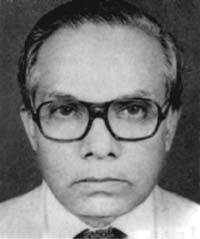 He was the first Muslim student to obtain first class in honours in Chemistry from Dhaka University. He obtained PhD in Soil Science from the University of California, USA, in 1949.
After he obtained the PhD, he joined the newly established Soil Science Department, Dhaka University as a Senior Lecturer. He served as Agricultural Chemist to the Government of East Pakistan from 1950 to 1961 and made significant contributions to agricultural research.
The significant contributions made by him are: (i) the first technical classification of the soils of Bangladesh known as seven soil tracts system, which laid the foundation of the modern soil classification of the country; and (ii) Manurial Trials under Farmers' Field and development of fertiliser guide.
He served the Directorate of Soil Survey to serve as its first Director from 1961 to 1966 and initiated modern soil survey in Bangladesh. He became the Director General of the Directorate of Soil Survey in 1966, Director of Agriculture in 1967 and later the first Director of East Pakistan Rice Research Institute untill 1971. He served as Director of bangladesh rice research institute (BRRI) from 1973 to 1977 and developed the institute as a centre of excellence. His contribution to the development of modern high-yielding varieties of rice is reflected in the present day self-sufficiency in food production. He retired in 1979 as Executive Vice-Chairman of bangladesh agricultural research council. He worked as a member of the external panel of consultants for the North Carolina State University, USA (1979-1980). He also worked as consultant in different international organisations like FAO, UNDP, CIRDAP, etc.
In recognition of his commendable service to BRRI, the Board of Governors of BRRI named its laboratory as 'Amirul Islam Laboratory'. Islam had been associated with many learned societies. He had been a member of the soil science society of bangladesh, Bangladesh Association for the Advancement of Science and a Fellow of the bangladesh academy of sciences. M Amirul Islam breathed his last on 9 February 2001. [Aminul Islam]