Islamic University the first public sector Islamic University of the country was set up in Kushtia after independence although the efforts were on in many ways to establish a university level sit of learning exclusively for Islamic Studies since early 20th century. The British Government in 1912 announced a plan to establish a university in Dhaka having Islamic Studies Faculty.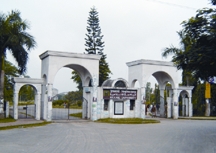 Mawlana Moniruzzaman Islamabadi raised a fund in 1920 for setting up of a Muslim University at Patyia in Chittagong. Mawlana Showkat Ali laid the foundation of this University in 1935. With the inception of Dhaka University in 1921, the much-awaited Islamic studies discipline was introduced here as a department.
A committee constituted by the government of Bengal called Mawla Bax Committee in 1941 also recommended for establishing a university of Islamic Learning. Subsequently two other committees, Syed Moazzam Uddin Committee and Mawlana Akram Khan Committee also recommended setting up an Islamic University in 1946-47 and 1947 respectively. The Islamic Arabic University Commission, headed by Dr. S.M. Hossain was constituted on 31 May 1963 and after independence in 1974 Mawlana Bhasani built up Santosh the Islami University in Tangail at private initiative.
The Government of Bangladesh announced the programme to establish the Islami University on 1 December 1976. A 7 member Islami University Planning Committee, headed by Professor M A Bari was constituted on 27 January 1977. The Committee submitted its report on 20 October 1977 and recommended to introduce (1) Al-Quran Wa Ulumul Quran (2) Ulmut Tawhid Wad-Dawah, (3) Al-Hadith Wa Ulumul Hadith, (4) As-Shariah Wa Usulus-Shariah and (5) Al-fal Safah Wattasayuf Wal-Akhlaq departments under the Theology and Islami Studies Faculty; (i) Arabic Language and Literature, (ii) Bengla Language and Literature, (iii) Islamic History and Culture, (iv) Economics, (v) Public Administration, (vi) Comparative Theology, (vii) Linguistics and (viii) Commerce departments under the Arts and Social Science Faculty and (1) Physics, (2) Mathematics, (3) Chemistry, (4) Botany, and (5) Zoology under the Science Faculty. The report also recommended setting up a Teachers Training Institute, Translation and Publication Bureau, Institute for Middle East Studies and Languages of Muslim World, a madrasah and a School in the campus.
The Heads of State and Governments of Muslim Countries in a summit organised by the Organisation of Islamic Countries (OIC) held in Makkah from 31 March to 8 April 1977 recommended for establishing Islamic Universities in different member countries. On the basis of that recommendation Professor ANM Momtaj Uddin Chowdhury was appointed Project Director on 9 February 1997 for establishing an Islamic University in Bangladesh.
Late President Ziaur Rahman laid the foundation stone of the Islamic University on 22 November 1979 over a land of 175 acres at Shantidanga Dulalpur village located beside the Kushtia-Jenidah highway, 24 kilometre south of Kushtia town. Following a Government order on 18 July 1980, the Islamic University Campus was shifted from Shantidanga-Dulalpur to Board bazar of Gazipur district and the Institute of Islamic Education and Research Centre was set up there following the passage of the Act No. 31 of 1980 by the Jatya Sangsad on 20 September 1980.
The House passed the Islamic University Bill (Act No 27 of 1980) on 27 December 1980 allowing autonomy to the University to facilitate academic and administrative activities. According to the Bill, the University would be controlled and activated by the fund of University Grant Commission. Chancellor of the University would be the Prime Minister and the Vice-Chancellor, to be nominated by the Chancellor, would act as the Chief Executive of the University. Professor ANM Momtaj Uddin Chowdhury was made the first Vice Chancellor on 1 January 1981. The government acquired fifty acres of land at Board Bazar under the provision of article 4 (b) of Islamic University (Amendment) Ordinance 1982. The Institute of Islamic Education and Research Centre was abolished by promulgation of the Ordinance no-43 of 1982. Hussain Mohammad Ershad, being the head of the government laid foundation stone of the Islamic University at Board bazar on 21 July 1983 for the second time. The Institute of Islamic Education and Reseach Centre was re-established again following a memorandum issued by the Government on 2 October 1983.
In 1985-86 academic session, three hundred students were enrolled in the departments of Al-Quarn Wa Wmmul Quran and Wulmut-tawhid Wad-dawah of Theology and Islamic Studies Faculty and Accountancy and Management departments under Arts and Social Science Faculty. With those students and 8-teachers Islamic University formally launched its academic journey at Board bazar on 28 June 1986. The authority made Arabic and Islamiat of 100 numbers compulsory for students of college background and English of 100 marks for students of madrasah background. Fifty percent seats of each department were filled up by madrasa students from 1985-86 to 1987-88 academic sessions.
According to a decision of the cabinet meeting of 3 January 1989 all activities of the University was suspended on 14 December and the campus was again shifted to Kushtia town as per a government order issued on 24 February 1990. A lady teacher got appointment in the University for the first time in 1990 and girl students were enrolled in the 1990-91 academic session. The University also was made a place of equal opportunity for all irrespective of caste, creed, religion and sex. On 1 November 1992, The Islamic University was brought back to its original campus at Shantidanga-Dulalpur from the makeshift campus of Kustia PTI and para-medical buildings.'
The Islamic University introduced 4-year honours courses instead of existing 3 years course from 1997-98 session and a new grading system from 2006-2007 session. The Vice-Chancellor of Islamic University conducts academic and administrative functions in co-operation with the Syndicate and the Academic Council. Moreover, there are many committees including Finance Committee, Higher Education and Research Committee, Academic Committee and Departmental Development committees to supplement academic activities and administrative functions of the university.
At Present, the University has five faculties and 22 departments. These are (1) Theology and Islamic studies faculty-departments of Al-Quaran and Islamic studies, Dawah and Islamic Studies and Al-Hadith and Islamic Studies; (2) Faulty of Arts and Social Sciences- Departments of Economics. Arabic Language and Literature, Bangla, Islamic History and Culture, English, and Politics and Public Administration; (3) Faculty of Law and Shariah-departments of Law and Muslim Jurisprudence, and Al-Fiqah; (4) Faculty of Business Administration-departments of Accounting and Information system, Management, and Finance; (5) Faculty of Applied Science and Technology-departments of Electronics and Applied Physics, Applied Chemistry and Chemical Technology, Computer Science and Technology, Information Science and Technology, Bio-technology, Statistics, Mathematics and Applied Nutrition and Food Science.
At Present, there are eleven thousand two hundred and sixty two students and 335 teachers, of whom 25 are women. The number of officers and staffs of the university is 726 and it has six residential halls. These are: Saddam Hossain Hall, Shahid Ziaur Rahman Hall, Bangbandhu Sheikh Mujibur Rahaman Hall (foreign students are also accommodated here), Lalon Shah Hall, Begum Khaleda Zia Hall, and Begum Fajilatunnesa Mujib Hall.
The Royal Saudi Government had extended support to build up the University Library. King Fahd bin Abdul Aziz Central Library has a collection of 81,100 books and 17,071 journals. Moreover each department of the University has its own library and computer centre. There are Physical Education and Sports department, National Cadet Corps and a unit of Bengladesh Scouts in the University for promoting physical and mental health of the students beside Teachers-students Centre, Cultural Centre, Medical Centre, Stadiam, Gymnasium, Central Mosque, Press Centre, and a Laboratory School and College. There is a Shahid Minar and a sculpture of the freedom fighters in the campus. The University has also a transport section of its own.
So far, three convoctions were held in the Islamic University-the first one on 20 April 1993, the 2nd one on 5 November 1999 and the 3rd convocation was held on 28 March 2002. The silver jubilee festival of the University was celebrated on 30 Nobember 2004.
The Islamic University publishes nine journals. The Islamic University Studies Journal, the IIER Research Journal and the Islamic University Central Journal are published centrally and others from different faculties. Al-Hadith and Islamic Studies Department publishes the Hadith Research Journal, Department of Al-Quran and Islamic Siudies publishes the Quranic Studies Journal, the Department of Dawah and Islamic Studies publishes the Dewah Research Journal. The Arabic Language and Literature Department issue the Arabic Research Journal, the Department of English bring out the Critic and Bangla Gabeshana Patrika by the Department of Bangla.
Accarding to the Islamic University (Amendement) Act, 2006, a five-year long Alia Madrasha Education course comprising 3 Year Fazil (Degree) and 2-Year Kamil (Post Graduation) was introduced in Islamic University. Accordingly a total of 1231 madrashas of the country including 108 Fazil (Degree) madrasas and 194 Kamil (Post-graduation) Madrasahs were affiliated with Islamic University.
The first Vice-Chancellor was Professor ANM Mamotaj Uddin Chowdhury. [ABM Saiful Alam Siddiqui]