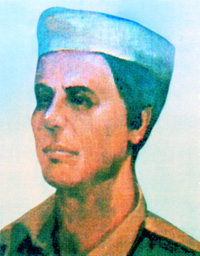 Jabbar, Abdul (1919-1952) martyr of Language Movement. Abdul Jabbar was born on 26 Aswin 1326 BS (1919 AD) at village Panchua in Gafargaon thana of Mymensingh district. He had his primary education in a local pathsala, but could not continue his studies due to poverty.
He left the school and was engaged in helping his father in agricultural work. While a boy of fifteen Abdul Jabbar left home unnoticed in search of fortune and reached the brisk commercial centre Narayanganj by train. There he came in contact with an Englishman who helped him in getting a job in Burma. He earned some proficiency in English language there. He returned home after twelve years of service in Burma. In 1952, Abdul Jabbar came to Dhaka (20 February) with his mother-in-law and wife for the medical treatment of his mother-in-law, a cancer patient. He got her mother-in-law admitted into the Medical College Hospital. On 21 February 1952, there was an assemblage of the students and the public at the premises of the Medical College Hostel demanding recognition of Bangla as one of the state languages of Pakistan.
Abdul Jabbar joined the rally. The police fired on the rally, and Abdul Jabbar was severely struck with a bullet. He was admitted into the Medical College Hospital where he breathed his last on the night following.
In recognition of his sacrifice, Abdul Jabbar was awarded the Ekushey Padak (posthumously) in 2000 AD. [Dilruba Begum]