Jhalokati District (barisal division) area 758.06 sq km, located in between 22°20' and 22°47' north latitudes and in between 90°01' and 90°23' east longitudes. It is bounded by barisal district on the north and east, pirojpur district on the west, barguna district and bishkhali river on the south.
Population Total 694231; male 345735, female 348496; Muslim 620585, Hindu 73327, Buddhist 144, Christian 91 and others 84.
Water bodies Main rivers: Bishkhali, Gajalia, Nalchity, Kalijira.
Administration Jhalokathi Sub-division was formed in 1972 and it was turned into a district in 1984. Of the four upazilas of the district nalchity is the largest (237.17 sq km, it occupies 31.3% of the total area of the district) and kanthalia is the smallest upazila (152.08 sq km).
District
Area (sq km)
Upazila
Municipality
Union
Mouza
Village
Population
Density (per sq km)
Literacy rate (%)
Urban
Rural
758.06
4
2
31
400
452
104070
590161
916
65.4
Others Information of District
Name of Upazila
Area
(sq km)
Municipality
Union
Mouza
Village
Population
Density
(per sq km)
Literacy rate
(%)
Kathalia
152.08
-
6
47
52
130364
857
67.8
Jhalokati Sadar
204.48
1
10
158
190
200117
979
64.20
Nalchity
237.17
1
10
133
135
214418
904
63.1

Rajapur




164.33




-




6




72




75




149332




909




68.0
Source Bangladesh Population Census 2001, Bangladesh Bureau of Statistics.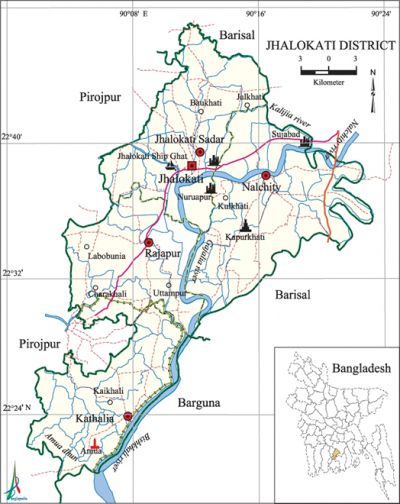 History of the War of Liberation The Pak army started indiscriminate killing, plundering and raping' in diferrent places of Jhalokati sadar upazila immediately after their entry on 27 April 1971; they also set many houses on fire. On 5 May, 21 Pak soldiers including a few razakars were killed in encounters with the Sarvahara Party of Siraj Sikder at Madra, Bhimrul and Peara Bagan. The Pak army shot 9 persons dead in Nalchhity upazila on 13 May. On 23 May the Pak army killed 23 pious Muslims at Ramanathpur Sharif Bari while they were onprayer. Besides, the Pak army in collaboration with the razakars, captured and later on killed 24 members of the Manik Bahini on 16 June. An encounter between the freedom fighters and the Pak army was held on 21 October at the premises of the Rajapur Police Station in which three freedom fighters were killed and so were 8 Pak soldiers. On 13 November, 18 Pak soldiers incuding 2nd Lt. Ajmat were killed in an encounter with the freedom fighters at Chachair and Premdaha. Jhalokati was liberated on 8 December.
Marks of the War of Liberation Mass killing site 6, memorial plate 2, memorial sculpture 1, memorial monument 1.
Literacy rate and educational institutions Average literacy 65.4%; male 67.4%, female 63.4%. Noted educational institutions: Jhalokati Government College (1964), Jhalokati Government Women's College, Sher-E-Bangla A K Fazlul Haque College, Jhalokati Government High School (1872), Siddhakati Secondary School (1882), Kirtipasa Prosanna Kumar Secondary School (1903), Baukati Bindu Bashini Secondary School (1918), Jhalokati Government Girls' School (1919), Nathullabad Secondary School (1923), Raipur Syed Abdul Latif Secondary School (1927), Nalchity Merchants Secondary School (1929), Chandrakanda Secondary School (1928), Nalchity Islamia Fazil Madrasa (1910), Chingrakhali Senior Alim Madrasha (1924), Rajapur Fazil Madrasa (1940).
Main sources of income Agriculture 45.89%, non-agricultural labourer 5.25%, industry 1%, commerce 16.45%, transport and communication 2.57%, service 14.89%, construction 2.15%, religious service 0.33%, rent and remittance 1.73% and others 9.74%.
Newspapers and periodicals Daily: Shatakantha (defunct); weekly: Suryadaya, Ajana Khabar (1995); monthly: Sujabad; defunct periodicals: Arkh, Jagaran, Shabdakash, Sabujpatra, Janayeta, Satabarsha Shoronika (1975), Mohona (1976), Chader Hasi (1978), Kalantar (1978), Onnesa (1978), Banglar Barta (1983), Biplobi Bangla (1983), Pari (1986), Suryaloka (1992), Ajker Shabdakash (1995), Namata (1996), Protiva (1996), Agraha (1996), Sreshti (1996), Shanko (1997), Kamini (1998), Dhanshiri Shahitta Soykot (1992), Weekly Robbarer Chithi (1972), Dhanshiri Sahittya Saikot, Nalchity Barta, Sugandha Barta, Sandesh, Bithika.
Folk culture Various types of folk songs such as Bhatiyali, Dhuyagan, Lokageeti, Baramasi gan, Kavigan, Kirtan, Jarigan, Chhad Petanor gan (songs sung at the time of levelling and casting of roof) are noted. Besides, various types of dances including the Kathak Dance are also performed in the district. [Humayun Rahman]
See also The upazilas under this district.
References Bangladesh Population Census 2001, Bangladesh Bureau of Statistics; Cultural survey report of Jhalokati District 2007; Cultural survey report of upazilas of Jhalokati District 2007.