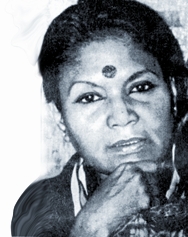 Kabeer, Rokeya Rahman (1925-2000) woman emancipation activist, educationist and social worker. Rokeya Rahman Kabeer was born in Calcutta on 4 October 1925 to Mujibur Rahman, a member of the Indian Civil Service and Zohra Khatoon. She went to school in Loreto Convent, Sealdah, studied geography at Lady Brabourne College and then did her MA in History at Presidency College.
Presidency College was then known for its leftwing politics and Rokeya was one of a small number of women who became politically active. When the period of heightened tension as the British prepared to withdraw from India and antagonism between Hindus and Muslims erupted periodically into terrible violence, Rokeya Kabeer was involved in political activity of secular nature.
Rokeya Rahman Kabeer left Kolkata for East Bengal (now Bangladesh) soon after 1947. She worked as a schoolteacher, first at Chittagong and then in Dhaka. In 1957, she went to England to do a second MA in History from London University.
On her return, she joined eden girls' college, Dhaka as head of the History Department. Along with an academic interest in history, she was also fascinated by archaeological heritage and made a prize-winning documentary film on mainamati.
Though a government servant, Rokeya was an active member of the underground Communist Party. She was made principal of Chittagong Girls' College in 1968, but she left for England for higher studies. She returned to Bangladesh in 1976 but did not join her teaching profession.
She decided to start an organisation for the empowerment of landless women in Faridpur district. She named her organisation 'Saptagram Nari Swanirbhar Parishad'. By the 1980s, the organisation covered several hundred villages and several thousand more women.
Rokeya Kabeer was an extraordinary woman who applied her energies to waging war on two fronts, the first against social injustice of all kinds, a war that she fought alongside many others. The second, however, was her own private war against the forces of orthodoxy, 'suffocating restrictions' imposed on women by society in the name of religion and culture. It was her attempt to forge the dual struggle on both personal and public fronts into a single, coherent stand against social injustice that made her unique and uncompromising. Rokeya Rahman Kabeer died on 28 July 2000. [Aksadul Alam]