Kaliganj Upazila (Satkhira District)
Kaliganj Upazila (satkhira district) area 333.79 sq km, located in between 22°19' and 22°33' north latitudes and in between 88°58' and 89°10' east longitudes. It is bounded by debhata and assasuni upazilas on the north, shyamnagar upazila on the south, Assasuni upazila on the east, west bengal state of India on the west.
Population Total 256384; male 130929, female 125455; Muslim 211470, Hindu 44755, Buddhist 144 and others 15.
Water bodies Main rivers: jamuna, Kakshiali, Galghasia, Kalindi, Gutiakhali; Bilgali, Banshtala and Bagarkhali canals are notable.
Administration Kaliganj Thana was formed in 1942 and it was turned into an upazila in 1983.
Upazila
Municipality
Union
Mouza
Village
Population
Density (per sq km)
Literacy rate (%)
Urban
Rural
Urban
Rural

-

12

243

253

16067

240317

768

46.35

53.89
Upazila Town

Area
(sq km)

Mouza

Population

Density
(per sq km)

Literacy rate (%)

7.96

6

16067

2018

53.89
Union
Name of union and GO code
Area (acre)
Population
Literacy rate (%)
Male
Female

Kushlia 55

5552

10923

9921

50.41

Krishnanagar 47

6405

11912

12621

43.75

Champaphul 23

7475

7853

7313

49.03

Tarali 94

9138

10365

9602

45.01

Dakshin Sreepur 31

4601

8323

8115

46.25

Dhalbaria 39

8432

9798

9331

50.30

Nalta 79

11431

16750

15676

42.40

Bishnupur 15

4336

10067

9615

49.00

Mathureshpur 63

8301

13648

13375

48.20

Mautala 71

3164

8767

8721

52.20

Ratanpur 87

6885

10699

10113

42.72

Bhara Simla 07

22878

11824

11052

46.80
Source Bangladesh Population Census 2001, Bangladesh Bureau of Statistics.
Archaeological heritage and relics Prabajpur Jami Mosque (Dhalbaria), Dargah of Madina Pir (Kushlia), tomb of Ganjon Pir (Ratanpur), tomb of Kangali Pir (Bhara Simla), tomb of Pir Ahsanullah (Nalta), Radha Govinda Jeu Mandir (Ratanpur), Nabaratna Mandir (Dhalbaria), Kali Mandir, Fort of Bikramaditya (Mathureshpur), Garh of Pratapaditya (Mahatpur), Damdama (fort).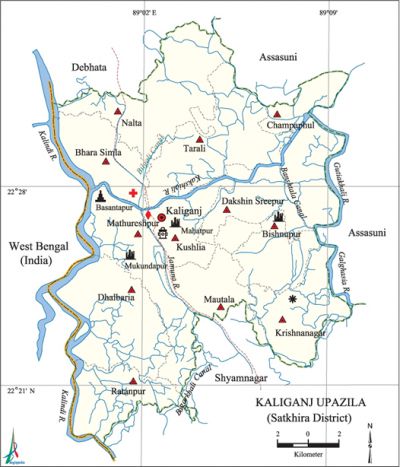 History of the War of Liberation During the war of liberation in 1971 Kaliganj was under Sector 9. During this time a number of memorable encounters between the freedom fighters and the Pak army were held in the upazila most noted of which were at Basantapur, Khanzia, Pirojpur, Nazimganj, Dudli and Ukshar. Kaliganj was liberated on 20 November 1971.
Religious institutions Mosque 347, temple 19, tomb 5. Noted religious institutions: tomb of Choto Miah, tomb of Buro Pir, Three Temple, Kali Mandir.
Literacy rate and educational institutions Average literacy 46.83%; male 53.03%, female 40.40%. Noted educational institutions: Kaliganj Degree College (1969), Dakshin Shreepur Kushlia Higher Secondary School (1926), Bishnupur Prankrishna Memorial School (1930), Dhuliapur High School (1930), Kaliganj Pilot High School (1936), Nalta High School, Champaphul Secondary School (1924), Nengi Secondary School (1929).
Newspapers and periodicals Periodicals: Gram Bangla (1987), Kakshiali (1992), Surya Tarun, Fariad, Kaliganj Barta, Nadi (1993), Mukti Surya (1995), Arjita Kantha (1998), Mukto Alap (2002), Raktim Surya (2004),' Al-Ahsan (2005), Smriti (2005), Bragratat (2005).
Cultural organisations Government Public Library, Ahsania Public Library (1980), Shaheed Smriti' Library (1995), brac Uttar Kaliganj Public Library (2001), BRAC Karbala Public Library (2003), Sushilan Library (2002), Sumon Literary Group (1980), Kaliganj Literary Academy (1993), Kaliganj Theatre Group (1995), Fatehpur Cultural Organisation (1981).
Main sources of income Agriculture 56.81%, non-agricultural labourer 6.05%, industry 2.71%, commerce 19.88%, transport and communication 2.40%, service 4.37%, construction 0.93%, religious service 0.20%, rent and remittance 0.30% and others 6.35%.
Ownership of agricultural land Landowner 52.48%, landless 47.52%; agricultural landowner: urban 43.45% and rural 53.03%.
Main crops Paddy, potato, brinjal, betel leaf, sweet potato, vegetables.
Extinct or nearly extinct crops Linseed, sesame, 'mug, khesari, arahar.
Main fruits Mango, jackfruit, litchi, water-melon, futi, 'banana, papaya.
Fisheries, dairies and poultries This upazila has a number of fisheries and poultries.
Communication facilities Pucca road 107 km, semi-pucca road 21.43' km, mud road 698.40 km.
Extinct or nearly extinct traditional transport Palanquin, horse carriage.
Noted manufactories Flour mill, ice factory, fish processing factory, oil mill, rice mill, printing press.
Cottage industries Goldsmith, potteries, weaving, bamboo work, nakshi kantha, jute work, wood work.
Hats, bazars and fairs Hats and bazars are 50, fairs 2, most noted of which are Nalta Hat, Nazimganj Hat, Kaliganj Hat, Banshtala Hat, Bishnupur Bazar, Ratanpur Bazar, Krishnanagar Bazar, Rathjatra Mela (Kushlia), Nalta Shorifer Mela are notable.
Main exports Betel leaf, shrimp.
Access to electricity All the unions of the upazila are under rural electrification net-work. However 8.82% of the dwelling households have access to electricity.
Sources of drinking water Tube-well 84.49%, tap 2%, pond 8.80% and others 4.71%. The level of arsenic in the shallow tube-well water of the upazila is very acute.
Sanitation 42.91% (rural 41.47% and urban 66.66%) of dwelling households of the upazila use sanitary latrines and 48.36% (rural 49.48% and urban 29.94%) of dwelling households use non-sanitary latrines; 8.73% of households do not have latrine facilities.
Health centres Upazila health complex 1, family planning centre 8, clinic 5, union health centre 3.
Natural disasters Many people were victims of the cyclones of 1970 and 1988; these also caused heavy damages to settlements, livestock and crops of the upazila.'
NGO activities Operationally important NGOs are brac, asa, Sushilan. [Sachhida Nanda De]
References Bangladesh Population Census 2001, Bangladesh Bureau of Statistics; Field report of Kaliganj Upazila 2007.