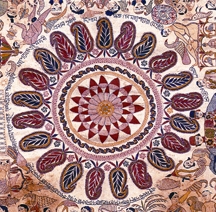 Kalka a curved textile motif or pattern dating back to Mughal times. The origins of the kalka are variously ascribed.
It has been compared to a mango, whose shape it resembles; in North India, the kalka is known as kairi, meaning unripe mango. It may also represent a stylised leaf or tree.
Its similarity with a flame has been pointed out. It has also been explained as being half the Chinese symbol of Yin and Yang, representing the union of man and woman. It is a common motif in Naksi kantha , alpana, sari, as well as in Kashmiri shawls.
In the west the kalka is well known as the paisley, the name deriving from the patterned shawls manufactured in Paisley, Scotland, in imitation of Kashmiri shawls. [Niaz Zaman]