Kamal, Birsrestha Mohammad Mostafa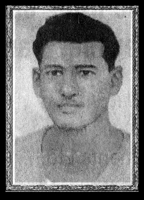 Kamal, Birsrestha Mohammad Mostafa (1947-1971) martyr in the War of Liberation. Mustafa Kamal was born in 1947 at village West Hajipara in Daulat Khan upazila of Bhola district. His father Mohammad Hafiz was a havildar in the army. Mostafa Kamal ran away from home on 16 December 1967 and joined the East Bengal Regiment. After completion of his training he was posted to 4 East Bengal Regiment in Comilla. Mostafa Kamal was promoted to the post of honorary Lance Naik sometime before the beginning of the War of Liberation in 1971.
During the political uprising in 1971 the Pakistan army authority with an object of controlling unrest deployed 4 East Bengal Regiment in Sylhet and Brahmanbaria. Having sensed the conspiracy, Major shafayat jamil along with a few Bangali soldiers arrested Lieutenant Colonel Khizir Hayat Khan along with other Pakistani officers and soldiers. Later, under the leadership of Major khaled mosharraf they set up defence position along Ashuganj, Ujanishwar and the Anderson canal of Brahmanbaria.
On 14 April, the Pakistan army launched triangular attack on the defence post of 4 East Bengal Regiment with helicopter gunship, naval gunboat and F86 fighter planes. Mustafa Kamal was a section commander of No. 2 Platoon of Alpha Company stationed at village Daruin of Gangasagar defence post.  
The Pakistan army began heavy firing on the platoon position from the early morning of 17 April. Major Shafayat Jamil sent No. 11 Platoon of D Company headed by Havildar Munir to strengthen the defence position. The battle continued throughout the day. On the morning of 18 April the enemy force approached Daruin village. The main attack began on that day at 12 noon from the western part of the defence line. A team of enemy soldiers had encircled the members of the mukti bahini from behind the defence line. Members of the Mukti Bahini decided to retreat from Daruin towards the Akhaura railway station. In order to move to safety they needed full covering fire. Mostafa Kamal declared that he would provide the covering fire and he ordered his soldiers to retreat to safety. His fellow soldiers requested him to allow them to follow. But Mustafa was adament.
Under heavy firing from Mustafa's LMG the Pakistanis suffered 20 to 25 casualties and the advance of the enemy soldiers was cowed down. The desperate Pakistanis began firing on Mustafa's position with machine guns and mortars. At one point bullets of Mustafa's machine gun exhausted and he was mortally wounded. The Pakistani soldiers entered his trench and bayoneted him to death.
The inhabitants of the village of Daruin buried the dead body of Mostafa Kamal near the place of his martyrdom. The Bangladesh Government conferred upon him the highest gallantry award of Birsrestha. [Qazi Sajjad Ali Zahir]