Kapasia Upazila (gazipur district) area 356.98 sq km, located in between 24°02' and 24°16' north latitudes and in between 90°30' and 90°42' east longitudes. It is bounded by gaffargaon and pakundia upazilas on the north, kaliganj (gazipur), shibpur and palash upazilas on the south, monohardi upazila on the east, sreepur upazila on the west.
Population Total 321454; male 162303, female 159151; Muslim 303296, Hindu 17826 and others 332. Indigenous communities such as santal, Koch (rajbangshi) and Mandi belong to this upazila.
Water bodies Main rivers: shitalakshya, old brahmaputra, banar; Buri Beel, Machha Beel, Nail Beel, Baniar Beel and Suti canal are notable.
Administration Kapasia Thana, now an upazila, was formed in 1947.
Upazila
Municipality
Union
Mouza
Village
Population
Density (per sq km)
Literacy rate (%)
Urban
Rural
Urban
Rural

-

11

166

230

10970

310484

900

64.8

56.1
Upazila Town

Area (sq km)

Mouza

Population

Density
(per sq km)

Literacy rate
(%)

4.54

3

10970

2416

64.83
Union
Name of union and GO code
Area (acre)
Population
Literacy rate (%)
Male
Female

Karihata 51

6682

11174

10862

51.98

Kapasia 43

9533

19327

18474

59.79

Ghagotia 34

5377

12078

11612

51.28

Chandpur 17

8808

13014

12905

52.96

Toke 94

9325

19002

18667

44.02

Targaon 86

8136

14566

14369

60.58

Durgapur 25

8805

16615

16740

76.17

Barishaba 08

9791

17482

17068

47.72

Rayed 60

8739

13079

12828

58.50

Sanmania 69

5727

14884

15112

61.40

Singasree 77

6267

11082

10514

53.49
Source Bangladesh Population Census 2001, Bangladesh Bureau of Statistics.
Archaeological heritage and relics Ekdala Fort, Dardaria Fort, Tok Fort, Karnapur Fort, Jora Dighi (joint tanks), Dargapara Shahi Jami Mosque (Tok), Asrama of Bangshi Babaji at Safaisree, Raniganj Neelkuthi (1800), ruins of the capital of Shishupal and the dighi, Dakbungalow of Lakhpur.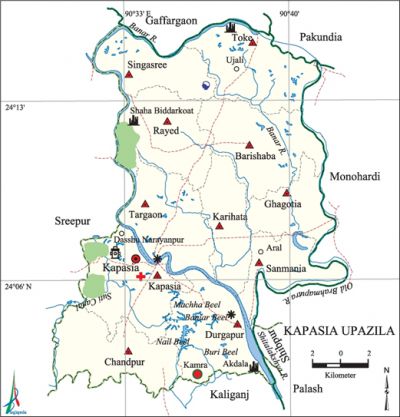 Historical events The combined forces of the bara-bhuiyans led by isa khan built up resistance in the area against Mughal general mansingh, and there were a number of encounters. During the war of liberation the Pak army sacked the whole Kapasia Bazar in May; they also conducted mass killing at different places of village Taragaon. Later on, the freedom fighters attacked Kapasia Police Station and captured arms and ammunitions. An encounter between the freedom fighters and the Pak army was held at village Najai of Raniganj and at a place adjacent to the Raonat bridge. On 13 August, the freedom fighters attacked the CO (Circle Officer) office with grenades. In October, encounters were held between the freedom fighters and the Pak army at village Taragaon and at kheyaghat.'
Marks of the War of Liberation Memorial monument 1 (in front of the office of Muktijoddha Sangsad), tomb of martyr Sajjat at village Taragaon.
Religious institutions Mosque 594, temple 41.
Literacy rate and educational institutions Average literacy 56.4%; male 57.4%, female 55.5%. Educational institutions: college 6, technical college 3, secondary school 79, primary school 181, madrasa 66. Noted educational institutions: Kapasia Degree College (1965), Taraganj HN High School and College (1919), Toke Ranendra High School (1908), Toke Sarjubala Girls' High School (1914), Kapasia Pilot' High School (1938), Begunhati Fazil Madrasa (1932).
Newspapers and periodicals Weekly: Shitalakshya; periodical: Raktakta Lash, Attik, Hridayer Prattay. Cultural organisations Library 38, club 39, cinema hall 1, theatre group 3, women's society 8, cultural organisation 11, most noted of which are Kapasia Public Library, Tajuddin Ahmed Library, Udichi Shilpigosthi (1983).
Tourist spots Angona Amusement Centre, Dhadarchar (confluence of Sitalakshya and Brahmaputra rivers), house of tajuddin ahmed at Durdaria (the first Prime Minister of Bangladesh), Kamra Ecopark, Fakir Majnu Shah Bridge.
Main sources of income Agriculture 64.48%, non-agricultural labourer 2.49%, commerce 12.14%, transport and communication 4.23%, service 7.30% and others 9.36%.
Ownership of agricultural land Landowner 77.77%, landless 22.23%; agricultural landowner: urban 72.28% and rural 77.95%.'
Main crops Paddy, jute, wheat, potato, sugarcane, mustard.
Extinct or nearly extinct crops Betel leaf, aus paddy, kaun.
Main fruits Jackfruit, papaya, mango, guava, banana, pineapple, date, palm, litchi.
Fisheries, dairies and poultries Fishery 9, dairy 98, poultry 2176.
Communication facilities Pucca road 174.81 km, semi-pucca road 14.63 km, mud road 439.18 km; waterway 23 nautical miles.
Extinct or nearly extinct traditional transport Palanquin, horse carriage, bullock cart.
Noted manufactories Rice mill, oil mill, biscuit factory, saw mill.
Cottage industries Goldsmith, blacksmith, potteries, embroidery, weaving, Bidi factory, nakshi kantha, bamboo work, cane work, jute work.
Hats, bazars and fairs Hats and bazars are 39, fairs 9, most noted of which are Kapasia, Dasyunarayanpur, Raithhat, Nayabazar, Raniganj, Ghatkuri, Ukhadi and Adal bazars; Dardaria hat; Targaon Baruni Nababarsha mela, Panbaraid Kali Bari mela, Ghighot Austami Snan mela, Nasra Bat-tala mela.
Main exports Jute, sugarcane, mustard.
Access to electricity All the unions of the upazila are under rural electrification net-work. However 23.03%' (urban 85.92% and rural 20.96%) of the dwelling households have access to electricity.
Natural resources Pit coal has been discovered in village Dasshu Narayanpur (adjacent to the Sitalakshya River). Besides, natural gas has been discovered at village Belashi of Rayed Union, village Kuriadi of Singasree Union and at village Rajapur of Barishaba Union. The total area of forest land of the upazila is about 1239 hectors (3.5% of the total area of the upazila).
Sources of drinking water Tube-well 91.26%, tap 0.52%, pond 0.40% and others 7.82%. The presence of arsenic at an intolerable level has been detected in 175 shallow tube-well water of Sanmania, Ghagotia and Barishaba Unions of the upazila.
Sanitation 42.41% (rural 40.99% and urban 85.34%) of dwelling households of the upazila use sanitary latrines and 30.68% of dwelling households use non-sanitary latrines; 26.92% of households do not have latrine facilities.
Health centres Upazila health complex 1, satellite clinic 2, union health centre 3, family planning centre 9, NGO conducted health centre 7, community clinic 20.
Natural disasters The earthquake of 16th century caused formation of char land in the Brahmaputra River on the eastern side of Kapasia. The Tornado of 2003 caused huge damages to settlements and other properties of village Kamargaon. The landslides of 22 February 2004 at village Dasshu Narayanpur caused heavy damages to settlements and properties of the area.'
NGO activities Operationally important NGOs are asa, Grameen Samaj. [Md Nazrul Islam]
References Bangladesh Population Census 2001, Bangladesh Bureau of Statistics; Field report of Kapasia Upazila 2007.