Karim, Sahityavisharad Abdul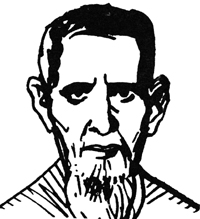 Karim, Sahityavisharad Abdul (1871-1953) Sahityavisharad, a litterateur, historian of Bangla literature and collector and interpreter of old Bangla manuscripts. Born in village Suchakradandi in Patiya Upazila within greater Chittagong, Abdul Karim Sahityavisharad passed his Entrance Examination in 1893 from Patiya High School. He served as a teacher in some schools, later joined the office of the Divisional Commissioner of Chittagong, and finally became Divisional Inspector of Schools. He retired in 1934. Abdul Karim started writing literary articles in early life. His literary pursuits drew the attention of contemporary literati.
His special interest was Muslim contribution to Bangla literature in the medieval period. Throughout his life he collected old Bangla manuscripts (called puthis). The Vangiya Sahitya Parisad published his catalogue of Bangla manuscripts entitled Bangala Prachin Puthir Bivaran in two volumes in 1920-21. The major portion of his manuscript collection, comprising works by Muslim poets, is preserved in the Dhaka University Library and the rest, written by Hindu poets, in the varendra research museum, Rajshahi. The Bengali department of Dhaka University has published a catalogue of the manuscripts preserved in the University Library under the title Puthi Parichiti. 
Abdul Karim himself edited and published eleven old Bangla texts; he also wrote a book on the history and culture of Chittagong, entitled Islamabad and co-authored with Dr Muhammad Enamul Haq a book entitled Arakan Rajsabhaya Bangla Sahitya. All these are scholarly works. His collection of manuscripts produced by Muslim poets indicates that the Muslim intellectuals of the medieval age had made great contributions to the development of Bangla literature. Some poets like daulat qazi, alaol, syed sultan, Muhamad Khan etc are rated among the greatest Bengali poets. Abdul Karim discovered about a hundred Muslim poets whose names and works were not known before.
Nadia Sahitya Sabha (Literary Association of Nadia) honored him with the title of Sahitya Sagar, while Chattal Dharmamandali gave him the title of Sahitya Visharad. He always preferred the latter and used it with his name and is remembered by this singular title. [Abdul Karim]