Katra Mosque, Murshidabad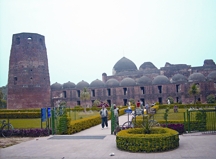 Katra Mosque, Murshidabad is situated about 3km east of murshidabad railway station, West Bengal. The area is a market place and the mosque stands on a high platform within a square courtyard measuring 50.60m on each side. The rectangular (39.62m x 7.32m) single-aisled mosque was originally covered with five domes. There are four octagonal corner towers which taper upwards and have winding staircases leading to the top. At present, only the two corner towers on the northwestern and southwestern sides are in existence. The mosque is surrounded on all four sides by a row of double storeyed domed chambers, which are locally called 'Katra' and which were used as 'madrasas'. The Katra mosque is a copy of kartalab khan's mosque (Dhaka) built in 1700-1704 AD. The eastern facade of the Katra Mosque contains five arched doorways, each of which opens under a high multi-foiled arch. The central entrance is flanked by attached pilasters. Each bay contains three mihrabs on the qibla wall; thus the mosque has in total fifteen mihrabs. The interior of the mosque makes a single hall with four transverse arches which spring from the side walls and divides it into five bays. The horizontal parapet is battlemented and the domes have tall finials.
murshid quli khan, the builder of the mosque, lies buried in a tomb under the multi-arched entrance portal leading to the courtyard.
The mosque has two Persian inscriptions; one above the central mihrab and another over the central entrance in the eastern fa'ade. The latter reveals the date of construction as 1137 AH (1724-25 AD). Murshid Quli Khan transferred the capital from Dhaka to Murshidabad, a city named after him, in 1717. The Katra Mosque was probably erected as the new capital's Jami mosque. The mosque is at present in a wretched state of decay. [Ayesha Begum]