Kaunia Upazila (rangpur district) area 147.6 sq km, located in between 25°42' and 25°50' north latitudes and in between 89°18' and 89°30' east longitudes. It is bounded by gangachara and lalmonirhat sadar upazilas on the north, pirgachha upazila on the south, Lalmonirhat Sadar and rajarhat upazilas on the east, rangpur sadar upazila on the west.
Population Total 214317; male 109564, female 104753; Muslim 199851, Hindu 14376, Buddhist 45 and others 45.
Water bodies Main Rivers: tista and Burail.
Administration Kaunia Thana was formed in 1916 and it was turned into an upazila in 1984.
Upazila
Municipality
Union
Mouza
Village
Population
Density (per sq km)
Literacy rate (%)
Urban
Rural
Urban
Rural

1

6

80

79

83054

131263

1462

38.97

35.69
Municipality

Area (sq km)

Ward

Mahalla

Population

Density
(per sq km)

Literacy rate (%)

16.13

9

82

64516

3999

37.82
Union
Name of union and GO code
Area (acre)
Population
Literacy rate (%)
Male
Female

Kaunia Balapara 27

7374

15582

15158

42.50

Tepa Madhupur 41

8149

15732

15436

35.54

Shahidbagh 67

3207

8286

7940

33.65

Kursha 40

7305

17262

16395

42.60

Sarai 54

3242

10513

9870

30.19

Haragachh 13

3209

9103

8524

26.13
Source Bangladesh Population Census 2001, Bangladesh Bureau of Statistics.
Archaeological heritage and relics Historic White Mosque, Bhayarhat Shiva Mandir, Zamindar Bari of Tepa, Ancient temple at Tepa Madhupur, Burir Dighi, Railway Bridge over the Tista.
History of the War of Liberation On 1 April 1971 the freedom fighters shot the Officer in Charge of the Thana (Police Station) dead. On 2 June the villagers killed two Pak soldiers attempting violation of women in a village. In consequence the Pak army sacked the villages located on the western side of the Tista Barrage and killed nearly 200 persons on 30 June.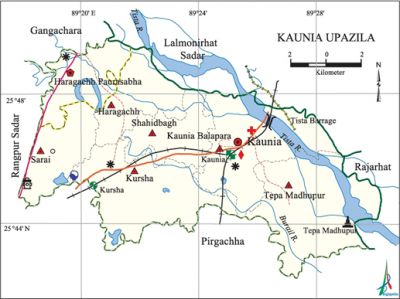 Religious institutions Mosque 239, temple 67.
Literacy rate and educational institutions Average literacy 36.97%; male 42.13%, female 31.61%. Educational institutions: college 8, technical college 3, secondary school 38, primary and satellite school 113, primary education centre 115, madrasa 16. Noted educational institutions: Kaunia Degree College (1972), Haragachh Degree College (1973), Baruarhat Technical College (2003), Gazirhat Vocational College (2001), Bailey Bridge Agricultural Diploma Institute (2003), Haragachh High School (1923), Tepa Madhupur High School (1938), Mofazzal Hossain High School (1957), Daradi High School (1962), Dhumerpara Senior Madrasa (1948), Aulia Fazil Madrasa (1957).
Newspapers and periodicals Daily: Juger Alo.
Cultural organisations Club 36, library 4, cinema hall 2.
Main sources of income Agriculture 51.08%, non-agricultural labourer 12.52%, industry 2.86%, commerce 13.18%, transport and communication 3.50%, service 5.30%, construction 1.11%, religious service 0.25%, rent and remittance 0.16% and others 10.04%.
Ownership of agricultural land Landowner 74.23%, landless 25.77%; agricultural landowner: urban 60.79% and rural 76.61%.
Main crops Paddy, wheat, tobacco, kaun, potato, vegetables.
Extinct or nearly extinct crops Jute, sesame, linseed.
Main fruits Mango, Jackfruit, banana, blackberry, guava, nut.
Communication facilities Pucca road 44.25 km, semi-pucca road 14.45 km, mud road 204 km; railway 11 km.
Extinct or nearly extinct traditional transport Palanquin, bullock cart.
Noted manufactories Rice mill, lathe machine, brick-field, leather processing factory, bidi factory, soap factory.
Cottage industries Weaving, blacksmith, potteries, bamboo work.
Hats, bazars and fairs Hats and bazars are 14, most noted of which are Sarai Hat, Shahidbagh Hat, Baroar Hat, Bhaiya Hat, Singar Kura Hat and Burir Hat, Kaunia Bazar, Haragachh Bazar and Mirbagh Bazar, Buri Mela of Shiva Mandir at Burirhat, Mela on the occasion of Austami Baruni Snan on the bank of Tista and fairs of Haragachh, Khansama, Kaunia and Tepa Madhupur on the occasion of Muharram.
Main exports Bidi, tobacco, nut, paddy, potato, wheat.
Access to electricity All the wards and unions of the upazila are under rural electrification net-work. However 22.97% of the dwelling households have access to electricity.
Mineral resources Aluminum silicate.
Sources of drinking water Tube-well 93.48%, tap 0.28%, pond 0.26% and others 5.98%.
Sanitation 20.81% (rural 16.89% and urban 27.56%) of dwelling households of the upazila use sanitary latrines and 24.66% (rural 27.63% and urban 19.56%) of dwelling households use non-sanitary latrines; 54.53% of households do not have latrine facilities.
Health centres Upazila health complex 2, union health and family welfare centre 6, charitable hospital 3.
NGO activities Operationally important NGOs are brac, proshika, asa, Arter Asa. [Abdus Sattar]
References Bangladesh Population Census 2001, Bangladesh Bureau of Statistics; Cultural survey report of Kaunia Upazila 2007.