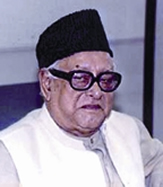 Khaeruddin, Khwaja (1921-1993) politician. He was born on 4 July 1921 in the Nawab family of Dhaka. His father was Syed Khwaja Alauddin and mother Shahjadi Begum. Khwaja Khaeruddin had his early education in Government Muslim High School in Dhaka. He obtained his graduation from Dhaka University in 1943.
Khwaja Khaeruddin joined Muslim League politics in 1941. He organised the students and the youths in favour of the Muslim League in Dhaka. Khwaja Khaeruddin was elected a member of the provincial and central working committee of Muslim League in 1946.
Khwaja Khaeruddin was one of those leaders who were deputed to reorganize the Muslim League after its electoral debacle in the general elections of 1954. He was elected a member of the Dhaka Municipality in 1956, and was elected as vice chairman of Dhaka Municipality uncontested in 1960 and continued in the position till 1970.
He joined the Council Muslim League led by khwaja nazimuddin and was elected a member of the Provincial Assembly in 1965.
Khwaja Khaeruddin was elected a member of the East Pakistan Provincial Assembly in 1968 and was elected as its chief whip. During the mass movement (1969) he tried to unify the three factions of the Muslim League. He contested in the Provincial Assembly elections in 1970 and was unsuccessful. During the war of liberation in 1971 Khwaja Khaeruddin was the convenor of the Peace Committee. After the liberation of Bangladesh he left for Pakistan and was elected vice president of the Muslim League there.
Khwaja Khaeruddin died in Karachi on 3 October 1993. [Md. Alamgir]