Khagrachhari Sadar Upazila
Khagrachhari Sadar Upazila (khagrachhari district) area 297.92 sq km, located in between 23°00' and 23°21' north latitudes and in between 91°55' and 92°00' east longitudes. It is bounded by panchhari upazila on the north, mahalchhari upazila on the south, dighinala and langadu upazilas on the east, matiranga upazila on the west.
Population Total 92380; male 50380, female 42000; Muslim 31000, Hindu 22747, Buddhist 1530, Christian 37062 and others 41. Indigenous communities such as chakma, marma, tripura and Tanchanga' belong to this upazila.
Water bodies Main river: Chengi.
Administration Bemrachai Chowdhury established the Khagrachhari Town in 1860. Khagrachhari Thana was formed in 1968 and it was turned into an upazila in 1984.
Upazila
Municipality
Union
Mouza
Village
Population
Density (per sq km)
Literacy rate (%)
Urban
Rural
Urban
Rural

1

5

13

228

57087

35293

310

56.3

31.7
Municipality

Area (sq km)

Ward

Mahalla

Population

Density
(per sq km)

Literacy rate (%)

13.04

9

61

38879

2981

64.73
Upazila Town

Area (sq km)

Mouza

Population

Density
(per sq km)

Literacy rate
(%)

50.25

3

18208

362

36.63
Union
Name of union and GO code
Area (acre)
Population
Literacy rate (%)
Male
Female

Kamalchhari 47

14020

5748

5294

33.31

Khagrachhari 63

7680

3872

3486

34.90

Golabari 25

2304

4094

3743

36.73

Perachhara 75

10114

5447

4924

36.55

Bhaibonchhara 15

26880

8809

8084

29.29
Source Bangladesh Population Census 2001, Bangladesh Bureau of Statistics.
Historical events A group of armed cadre of the Shanti Bahini formally surrendered their arms (consequent upon the chittagong hill tracts peace accord, 1997) at the Khagrachhari Stadium on 10th February 1998 and returned back to normal life after nearly two decades of insurgency.
Religious institutions Khagrachhari Jami Mosque, Baitul Sharaf Jami Mosque, Lakshmi Narayan Mandir (1939), Shiva Mandir, Khagrapur Church.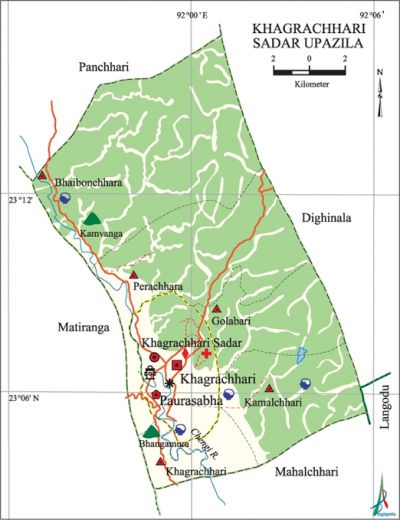 Literacy rate and educational institutions Average literacy 47.2%; male 55%, female 37.8%. Noted educational institutions: Khagrachhari Government College (1974), Khagrachhari Government High School (1957), Khagrachhari North Khobongpodia Government Primary School (1905).
Cultural organisations Library 1, club 38, theatre group 1, women's organisation 12, stadium 1, cinema hall 1, tribal cultural institute 1.
Tourists spots Alu Tila, Kamvanga, Bhanga Mura.
Main sources of income Agriculture 42.43%, non-agricultural labourer 12.51%, commerce 11.97%, transport and communication 2.38%, service 17.64%, construction 1.80%, religious service 0.28%, rent and remittance 0.27% and others 10.72%.
Main crops Paddy, ginger, turmeric, potato, nut, vegetables.
Extinct or nearly extinct crops Varieties of paddy.
Main fruits Mango, blackberry, jackfruit, pineapple, papaya, banana, litchi.
Fisheries, dairies and poultries Poultry 12.
Communication facilities Pucca road 80.33 km, semi-pucca road 30 km, mud road 125 km.
Extinct or nearly extinct traditional transport Palanquin, horse carriage, bullock cart, elephant cart.
Noted manufactories Saw mill, ice factory.
Cottage industries Goldsmith, blacksmith, weaving, potteries, wood work, bamboo work.
Hats, bazars and fairs Hats and bazars are 3, fairs 2, most noted of which are Khagrachhari Bazar and Shiva Mela.
''Main exports ' Banana, pineapple, jackfruit, papaya.
Access to electricity All the wards and unions of the upazila are under rural electrification net-work. However 29.79% of the dwelling households have access to electricity.
Sources of drinking water Tube-well 60.87%, tap 3.83%, pond 1.46% and others 33.84%.
Sanitation 21.72% (rural 3.09% and urban 34%) of dwelling households of the upazila use sanitary latrines and 64.61% (rural 79.71% and urban 54.65%) of dwelling households use non-sanitary latrines; 13.67% of households do not have latrine facilities.
Health centres Hospital 1, health centre 5, family planning centre 3, maternity clinic 1, diagnostic centre 9.
NGO activities Operationally important NGOs are brac. [Suvra Jati Chakma]
References Bangladesh Population Census 2001, Bangladesh Bureau of Statistics; Cultural survey report of Khagrachhari Sadar Upazila 2007.