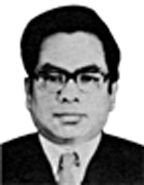 Khair, M Abul (1929-1971) one of the intellectual martyrs, who lost his life on 14 December 1971, was an Associate Professor of History at the Dhaka University. Abul Khair was picked up from his residence by the anti-liberation forces in the morning of 14 December and his dead body was recovered from Mirpur slaughter site. His mortal remains lie buried beside the Dhaka University Mosque.
Born on 1 April 1929 in village Gosantara-Brahmandanga, PS Kawkhali, under Kawkhali upazila of Pirojpur district, Md Abul Khair obtained his MA degree in History (1951) from Dhaka University. He started his teaching career at the Fazlul Huq College, Chakhar in Barisal and later he served the Jagannath College, Dhaka. In November 1955 he joined the Dhaka University as Junior Lecturer, where he served till his death. Khair obtained Ms (1959) and PhD (1962) in International History from the University of California, Barkeley.  
A part of his PhD thesis was published by the Asiatic Society of Pakistan (now Bangladesh) in 1968 under the title' United States Foreign Policy in the Indo-Pak Subcontinent, 1939-1947. He also published several research articles in recognised journals.
MA Khair always upheld the principles of social justice and cherished the idea of a welfare state and above all the dignity of man. He was a zealous supporter of the Bangladesh movement and was always vocal about national issues. In August 1971 he was taken into custody by the Pakistan Army for interrogation and was killed. [Aksadul Alam]