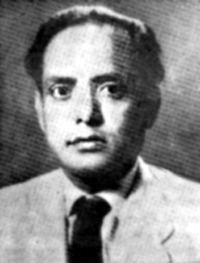 Khan, Abdul Jabbar (1916-1993) a film director, screenplay writer and producer. He was born in the Masadgaon village of lohajang upazila of munshiganj district. Abdul Jabbar was active in the theatre since his school days. He performed in plays like Behula, Vishwamangal, Satirtha, Samajpati, Matir Ghar, and Sohrab Rustam. He got a diploma from Ahsanullah Engineering School in 1941. He formed the Kamlapur Dramatic Association and devoted himself to writing plays and staging those.
Some plays staged by him were Tipu Sultan, Bange Bargi, Isa Khan, Jaglo Desh, Protiggya, Meye, and Dakat. Based on his own screenplay he made the feature film Mukh O Mukhosh in 1956. This was the first feature film made in East Pakistan. Other feature films made by Abdul Jabbar Khan are Joar Elo (1962), Nachghar (in Urdu, 1963), Banshari (1968), Kanch Kata Hira (1970) and Khelaghar (1973). He also produced an Urda film, Ujala.
During the war of Liberation in 1971, Jabbar worked as the chief executive of the Film department of the exile government. He established the Popular Studio, a private film studio at Pagla near Dhaka for filmmaking and was associated with many film-related organisations and institutions.
For his outstanding contribution to the film industry he was honoured with the Bangladesh Film Journalists Association Award, the FDC Silver Jubilee Medal, Uttaran Medal, Hiralala Sen Memorial Medal and the Gold Medal of the Bikrampur Foundation. He was also honoured by the National Film Archive and the Rainbow Film Society. Abdul Jabbar was a pioneering figure in the film industry of Bangladesh. He died on 29 December 1993. The library of the Film Development Corporation of Bangladesh was named as Abdul Jabbar Khan Library in his honour. [Ayub Hossain]