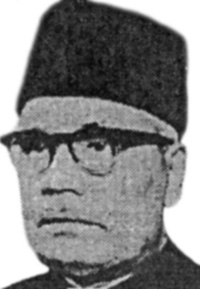 Khan, Abdul Monem (1899-1971) Governor of East Pakistan (from 1962 to 1969), a lawyer and a politician. Born on 28 July 1899, Monem Khan was the son of Kamar Ali Khan and Nasima Khatun of Humayunpur village under Bajitput Upazila of Kishoreganj district.
He Matriculated from Mymensingh Zilla School in 1916, graduated from Dhaka College in 1920 and obtained the BL Degree in 1922 from Calcutta University. After the establishment of the university of dhaka in 1921, he again obtained the Law Degree from the newly established university in 1924.
Monem Khan joined the Mymensingh District Bar in 1927. He was an organiser of sports and a member of the Muhammadan Sporting Club of Mymensingh. He conducted the relief work along with subhas chandra bose during a devastating flood in North Bengal in 1930. He was elected the Assistant Secretary of the Mymensingh Anjuman-i-lslamia in 1932. Monem Khan appeared before the floud commission and suggested ways and means for the well-being of the poor peasants of Bengal. In 1935, he joined the All India muslim league and became the founder secretary of its Mymensingh branch. At his invitation mohammed ali jinnah visited Mymensingh in 1936 and addressed some public meetings.
Monem Khan was a member of the Mymensingh District Board for a long time from 1945. He organised the Mymensingh district Muslim League National Guard in 1946 and became the Salar-i-Zilla.
Monem Khan was the Chairman of the Mymensingh District School Board from 1946 to 1954. In 1947, he was elected member of the East Pakistan Muslim League Working Committee and a Councilor of the All Pakistan Muslim League. In 1948, he was elected a member of the East Bengal Primary Education Board and a member of the Pakistan Constituent Assembly. In 1950, he was appointed the member of the Bengal Defence Committee and the Provincial Armed Services Board.
Monem Khan was elected uncontested a member of the Pakistan National Assembly in 1962 and joined the cabinet of President Ayub Khan as the central Mnister of Health. During his ministry 7 Medical Colleges were established in East Pakistan and MBBS condensed course for the LMF Doctors was introduced. The Institute for the Post- Graduate Medicine and Research (now the Bangabandhu Sheikh Mujib Medical University Hospital) was also established during his tenure as the Health Minister.
Abdul Monem Khan, while governor of East Pakistan, remained steadfastly loyal to Ayub regime. That made him extremely unpopular to the people of East Pakistan.
Abdul Monem Khan died at Dhaka Medical College Hospital on 13 October 1971 being shot at by some freedom fighters during the liberation war of Bangladesh and was buried at the Banani Graveyard. [Muhammad Abdus Salam]