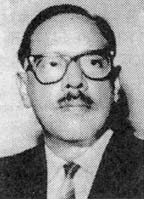 Khan, Abdus Salam (1906-1972) lawyer, politician, writer. Abdus Salam Khan was born in Faridpur town in 1906. His paternal home was at village Bejra in Gopalganj district. He got BA (Hons) in English in 1929 from Calcutta Presidency College, MA in Political Science in 1930 and BL degree in 1931 from Dhaka University.
Abdus Salam Khan began his career as a lawyer. He joined the Muslim League and took active part in the Pakistan Movement. Later he resigned from Muslim League as a protest against the anti-people policy of the Muslim League government. He joined Awami Muslim League in 1949 and was elected a member of the executive committee of the party. Between 1953 and 1955 he was the vice president of Awami Muslim League. He was elected a member of the East Bengal Provincial Assembly in 1954 from Gopalganj as a nominee of the united front. He was included in the United Front cabinet in 1955 in charge of the Ministry of Public Works and Communication. During his tenure as a minister, the foundation stone of the Central Shaheed Minar was laid.
He resigned from the cabinet on 11 July 1956. Abdus Salam opposed the proposal of dropping the word 'Muslim' from the name of Awami Muslim League, and led a faction of the party with its original name as Awami Muslim League. He was its president from 1955 to 1958.
Salam was made disqualified for elective bodies under the Electoral Bodies Disqualification Order (EBDO) enacted in 1960. With the revival of Awami League in January 1964 Salam Khan was nominated as a member of the central executive committee of the party. He inaugurated the council meeting of Awami League on 19 March 1966 at Eden Hotel in Dhaka wherein the six-point programme was adopted by Bangabandhu sheikh mujibur rahman.
Abdus Salam Khan was elected as president of Dhaka High Court Bar Association in 1966. He joined Pakistan Democratic Movement in 1967. Salam Khan was the chief lawyer defending the cause of the accused in agartala conspiracy case in 1968. He actively participated in the mass movement in 1969 and attended the Round Table Conference convened by President ayub khan. With the floating of Pakistan Democratic Party by Nurul Amin in 1969 he joined the party and was made president of its provincial unit.
Salam Khan contributed a number of articles to the journals and periodicals especially in Shikha and Sowgat. His article titled Parliamentary Democracy in Bangladesh, published sometime after his death, bears testimony to his political wisdom. He wrote a Bangla novel titled Behtamgarh. He died on 29 February 1972. [ASM Enayet Karim]