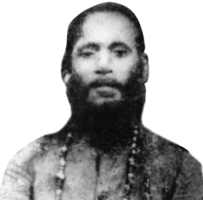 Khan, Fakir Aftabuddin (1862Foodgrain-1933) lyricist, composer, singer and musician, born in a music-loving family in the village of Shibpur brahmanbaria district. His father was Sabdar Hossain Khan, otherwise known as Sadu Khan, and Ustad alauddin khan and ayet ali khan were his younger brothers.
Aftabuddin entered the world of music at a very early age. He learnt to play the tabla and violin with the twin brothers Ramdhan and Ramkanai, musicians at the court of the zamindar of the adjoining village of Bangora. Rababi Qasim Ali Khan, musician at the court of the raja of Tripura was his music teacher. Although Aftabuddin could play various musical instruments, he was a especially skilled flautist, who is said to have charmed even the birds. He was also adept at playing the nyastarabga, a wind instrument, difficult to play because it requires a high-level of training in breath control, and the tabla.
He could handle three musical instruments at a time. He used to play the tabla, flute and harmonium at the same time, and the two-stringed dotara, flute and banya (the left tabla), at another. When he played in this fashion, it seemed that many people were playing and singing in chorus. He invented two musical instruments: the meghadambur and swarasangraha. He set the lyrics of the ascetic poet manomohan dutta of comilla to music and helped to popularise them.
Many of his compositions were based on ragas, and he helped bridge the gap between folk and classical songs, a task considered to be among his achievements. He was called 'fakir' because of his devotion to God and disinterest in worldly affairs. However, he also worshipped the goddess Kali, and was therefore also known as 'Aftabuddin Sadhu'. [Mobarak Hossain Khan]