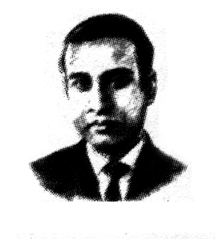 Khan, Fazlur Rahman2 (1939-1971) educationist, martyr intellectual. He was born on 2 March 1939 at village Kajiati in Mohanganj thana of Netrokona district. His father Abdul Hekim Khan was a school teacher. He passed Matriculation examination in 1954 from Mohanganj High School, ISc in 1956 from Ananda Mohan College. He obtained BSc (Hons) degree in Soil Science from Dhaka University in 1960 and MSc in 1962.
Fazlur Rahman started his career as Lecturer in Soil Science in Dhaka University in 1963. He left for England in 1964 for higher studies. Between 1964 and 1968 he was engaged in research work on A study on the Neutrient Metabolism in Soil at High Moisture Level. In 1968, he obtained PhD degree from London University. The same year he was promoted to the post of Senior Lecturer in Dhaka University.
In 1971, Fazlur Rahman used to live in a quarter of the Nilkhet residential area of Dhaka University.
On the night of 25 March the Pak army raided the University area. After midnight the Pak army entered into the house of Fazlur Rahman and shot him dead. His nephew Kanchan was also killed by bullet shot. Fazlur Rahman Khan and his nephew Kanchan were laid to rest at Azimpur graveyard. [Abu Md. Delwar Hossain]