Khan, Justice Abdul Jabbar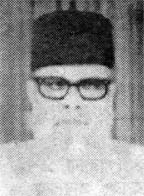 Khan, Justice Abdul Jabbar (1902-1984) jurist, politician. Born on 1 January 1902 at village Baherchar in Barisal district, Abdul Jabbar Khan passed his Matriculation examination from Barisal Zila School in 1919 and IA from Barisal Brajamohan College in 1921.
He obtained BA (Hons) and MA Degree in Arabic from the Dhaka University in 1924 and 1925 respectively, and BL degree in 1927. Jabbar Khan joined the Bengal Civil Service (Judicial) in 1929 and served in the capacity of subordinate judge, additional district judge and district judge till 1956 when he was appointed as justice of the Dhaka High Court.
On his retirement from service in 1962 Abdul Jabbar Khan joined public politics as an activist of the then party in power, Pakistan muslim league, and was made president of the East Pakistan Muslim League (Convention) in 1964.
He was elected a member of the Pakistan National Assembly from Barisal under the basic democracies system in 1965, and was elected Speaker of the National Assembly (10 June 1965), a position he held till the promulgation of martial law in the country on 25 March 1969.
A great philanthropist Abdul Jabbar Khan established a number of educational and various social and welfare institutions. He died in Dhaka on 23 April 1984. [Muazzam Hussain Khan]