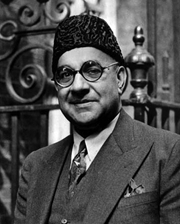 Khan, Liaquat Ali (1896-1951) first Prime Minister of Pakistan. Liaquat Ali Khan was born in 1896 at Karnal in the East Punjab. After passing IA from the Aligarh College in 1919, he obtained BA degree from the Oxford University and became a barrister from Inner Temple, London in 1922. He joined the muslim league in 1924.
Between 1936 and 1947, he served as the general secretary of All India Muslim League. After the decision to partition of India was taken on 3 June 1947, he was entrusted with the responsibility of framing an organisational and administrative structure for the newly created state of Pakistan. He was elected a member of the Pakistan Constituent Assembly from the province of East Bengal and was appointed the first Prime Minister and Defence Minister of Pakistan in August 1947.
In 1950, Liaquat Ali Khan prepared a report on the basic principles of Pakistan, which was adopted as an outline of the future Constitution of the country.
But this report was perceived to be biased against the interests of the people of East Bengal. However, one of the major political achievements of Liaquat Ali Khan was the signing of a treaty with India on 8 April 1950 (Liaquat-Nehru Accord) for protection of the minority communities in India and Pakistan. He was assassinated by a military officer on 16 October 1951 while he was addressing a rally at Rawalpindi. He was given the title of Quaid-e-Millat (leader of the nation) by his followers. [Helal Uddin Ahmed]