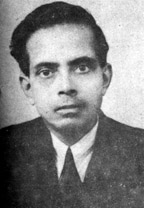 Khan, Muhammad Siddiq (1910-1978) library scientist, researcher, writer. Siddiq Khan was born in 1910 in Yangon, Myanmar. He also known as MS Khan. Family legend goes that his ancestors were members of Mughal aristocracy and that one of his ancestors moved to Yangon to become a tutor to the children of the exiled Emperor Bahadur Shah. But his physical feature suggests that his ancestry may have linkage with the Arakanese ethnicity.
Though born into a well-off family, Khan's childhood suffered serious financial difficulties mainly caused by the premature death of his father and by the non-cooperation of his uncle with regard to the transfer of the family's inheritance. His mother Bolonnessa Begum had to fight against odds and adversities to raise her son. MS Khan spent almost the first half of his life in Yangon where he had his formal education. At all levels of his education he made marvelous results, in recognition of which he was awarded the Jardin prize and the Yakub Ghani Gold Medal.    
MS Khan began his professional career in 1931 through teaching History and Political Science at Yangon University from which he took his Master degree. Interestingly, his students there included the father of the Burmese nation, Aung Sung. As one political upheaval (the Great Rebellion) forced his father to move to Yangon, another (World War II) brought MS Khan back to Bengal. Rendered penniless by the war and having suffered many other hardships in a war situation where mothers abandoned their babies for hunger and exhaustion, he left Yangon by taking difficult mountain terrains of hundreds of miles and finally arrived in his place of origin in Bangladesh. From there he moved to Calcutta in search of livelihood and thrived in his career. He worked as an officer in the department of Civil Defence and as a Liaison Officer in the Industries Directorate of the Bengal government. In 1946 he had the honour to become the General Secretary of the Bengal Red Cross Society (presently, the Red Crescent Society). Then another political turmoil took place, the partition of India ' that brought further miseries for Khan.
The partition forced him to move to Dhaka. He worked as the Principal of Manikganj Debendra College, and then in 1953 he was appointed the secretary to the Vice-Chancellor of the University of Dhaka. In that capacity, he worked under two vice-chancellors of the University ' Moazzem Hossain and W A Jenkins. Both were highly impressed by his efficiency and intellectual capabilities, especially by his good command of English. Jenkins facilitated Khan's further education in library science and sent him to England in 1954. On his return after completing a two-year course in library science in London, Khan was made the Librarian of Dhaka University, a post he held until his retirement in 1972.
While working at Dhaka University, he thought about launching a library movement in the then East Pakistan, and eventually founded the Library Association of East Pakistan. In order to produce trained librarians, he first introduced a diploma course and then finally persuaded the authority of the University of Dhaka to set up the Department of Library Science (presently, the Department of Information Science and Library Management), which the University did in 1959 and made M S Khan its founder Head. He held important positions in different library associations, such as: Vice-President of Pakistan Library Association, President of the East Pakistan Library Association, General Secretary of Pakistan Library Association and Vice-President of Asian Federation of Library Association.
Along with demonstrating a brilliant performance in professional career, M S Khan left an indelible mark as a writer. He brought out a mini-journal named Eastern Librarian and edited the periodical until 1976. He used to write regular columns mainly for the Weekly Holiday and The Bangladesh Observer. A prolific writer, M S Khan wrote many books and essays. Some of the important books he wrote are: Bangla Mudran O Prokashonar Gorar Kotha (Early History of Bangla Printing and Publication), Dhaka: Bangla Academy, 1371 BS; Granthagar Samprosaran O Janapriota Briddhir Upay (Ways of Expanding and Popularising Library), Dhaka: Pak Samachar, 1956. His scholarly journal articles include: 'Captain George Sorrel's Mission to the Court of Amarapura 1793: An Episode in Anglo-Burmese Relations', Journal of the Asiatic Society of Pakistan, vol. II 1957, pp. 131-153; 'A Chapter in the Muslim Struggle for Freedom: Establishment of Dacca University', The Dacca University Studies, vol. XVI, June 1968, part 1; 'A Blueprint for University Library Development', Pakistan Librarianship, 1963-64, pp. 160-170; 'Burma Desher Itihase Mussulman' (Muslims in Burmese History), Dhaka: Bangla Academy Patrika, 5(1), 1961, pp. 33-37. Apart from these and many other works including book reviews and prefaces, M S Khan wrote many other scholarly pieces many of which were published in his Eastern Librarian. In recognition of his contributions MS Khan was honoured posthumously with Swadhinata Padak in 2004.
Like his early years, his last few years were difficult. After his retirement from Dhaka University, his provident fund was withheld for no good reasons. His difficult financial condition forced him to do what he perhaps had never done before. He had to write to the then President, Justice Abu Sayeed Chowdhury, for his intervention in securing this provident fund. He died in Dhaka on 10 August, 1978. [Muhammad Kabirul Hasan]