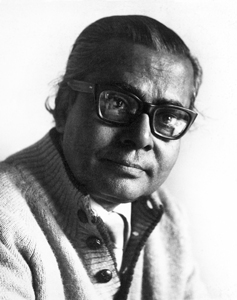 Khan, Rokanuzzaman (1925-1999) journalist and founder of the children's organisation, Kachi-Kanchar Mela (1965), Rokanuzzaman Khan was popularly known as 'Dadabhai'. He was born in the pangsha Upazila of faridpur in a literary family and spent his life in a literary and cultural milieu. yakub ali chowdhury and rowshan ali chowdhury were his distant granduncles. He married Nurjahan Begum, the daughter of mohammad nasiruddin, and editor of the begum magazine.
Rokanuzzaman worked in the Ittehad (1947) in Kolkata as well as in the Shishu Saogat (1949) and the Millat (1951). He used to look after the Mitali Majlis section of the Ittehad and the Kishor Duniya section of the Millat. In 1955 he joined the ittefaq and, under the pseudonym of Dadabhai, edited the children's page, Kachi-Kanchar Asar. He was connected with this page till his death.
Rokanuzzaman worked tirelessly to nurture the mental faculties and talents of children. He wrote poems and nursery rhymes for children. His books for children include Hattimatim (1962), Khokan Khokan Dak Padi, Ajab Haleo Gujab Nay.
Through his writings for children he attempted to inspire in them a sense of ethics and patriotism. He edited Amar Pratham Lekha (1957), an anthology of the first publications of many famous writers, as well as Jhikimiki, an anthology of children's writing. He also edited and published a monthly magazine called Kachi o Kancha (1965).
Another great achievement of Rokanuzzaman was the establishment of Kachi-Kanchar Mela which aimed to develop children in body and mind. His tireless efforts helped the organisation to spread to other parts of the country. Its central office is in Dhaka. Recently, with the help of Norad, a building has been built for its central office in Segun Bagicha where children are taught singing, recitation, drawing, etc. There is also a library called Kakali Pathagar, to encourage children to develop the reading habit. Rokanuzzaman was a strong supporter of Bengali culture and aroused the wrath of the Pakistani authorities. In 1971 the Pakistani forces attacked the office of Kachi-Kanchar Mela and burnt all the books that they found there.
For his creative and organisational work, Rokanuzzaman Khan was awarded the Bangla Academy Award (1968), Shishu Academy Award (1994), Ekushey Padak (1998), Jasimuddin Gold Medal, and the Rotary International and the Rotary Foundation Trust's Paul Harris Fellow Award. [Wakil Ahmed]