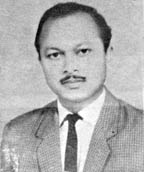 Khan, Suleman (1939-1971) physician, martyr intellectual. Suleman Khan was born in 1939 at village Sheikhdi in Faridganj upazila of Chandpur district. His father Md. Yusuf Khan was a sanitary inspector and his mother was Nurennessa Khanam. Suleman Khan passed matriculation examination in 1955 from Chandpur Hasan Ali High School, I. Sc in 1958 from Comilla Victoria College, and obtained his MBBS degree from Dhaka Medical College in 1967. On completion of his internship in Dhaka Medical College Hospital, Suleman Khan joined Tongi Jute Mill as residential physician in 1969. He had his private chamber attached to the Rashed Medical Pharmacy at Gopibagh in Dhaka.
Suleman Khan was involved in politics in his student life. Initially, he was an associate member of the Communist Party and later became a regular member of the Party. Suleman Khan and his wife Shamsunnahar were the active members of the cultural organisation 'Udichi'. The programme of Udichi for training of the artists in mass-songs was initially piloted by Suleman Khan, and the classes were held at his residence at Gopibagh. He launched a literary and cultural organisation named 'Taranga' in 1969 in Dhaka with himself as the president. The activists of Taranga had vital role in all the progressive movements in the country beginning from the mass upsurge of 1969.
Suleman Khan edited and published a weekly Bangla paper styled Prithibi. He edited two periodicals published from 'Taranga' on the occasion of Shaheed Day. He contributed a number of articles on evolution and on medical Science.
With the beginning of war of liberation in 1971, Suleman Khan along with his family secretly left Dhaka for his village home with an object of crossing the border to join the liberation war. While at home he organized the young workers and induced them to join the war. Besides, he engaged himself in the treatment of the persons wounded by bullet shots of the Pak army at Chandpur and carried to the mufassil area. Soon he came in conflict with the local Muslim League activists on the issue of plunder of arms and provisions sent by Awami League activists on a boat for the freedom fighters. Through the mediation of elders in the village, Suleman Khan pressurised for the recovery and return of the plundered goods. The consequence invited a reverse for him.
On the night of 24 April 1971, a group of armed reactionaries attacked his house, broke open the door making him a victim of bullet shot on the chest, and wounding his mother and his younger brother Hashem Khan. Suleman Khan was instantly carried towards Chandpur for treatment, but he breathed his last on the way. He is laid to rest at the family graveyard at his native village Sheikhdi.
The Postal Department of the Government of Bangladesh issued commemorative postal stamp in the name of Suleman Khan on the Martyred Intellectual Day on 14 December 1996 in recognition of his sacrifice for the cause of the nation. [Muazzam Hussain Khan]