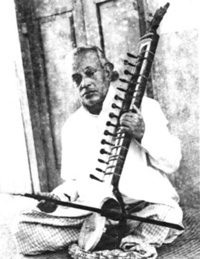 Khan, Ustad Phuljhuri (1920-1982) instrumentalist, esraj, sanai and tabla player, was born at Bitghar village under nabinagar upazila, brahmanbaria, grandson of the famous musician fakir aftabuddin khan. His real name was Yar Rasul Khan.
Yar Rasul Khan was attracted to music early. He got music lessons on the tabla from Aftabuddin Khan, his maternal grandfather, as well as ustad alauddin khan and ustad ayet ali khan. The Maharaja of Maiher heard Yar Rasul Khan playing the tabla with Ustad Alauddin Khan at a jalsa and was so impressed by the superb performance of Yar Rasul Khan that he conferred the title 'Phuljhuri' on the young man, who became known later as Phuljhuri Khan. Phuljhuri Khan was also an accomplished sitar, pakhwaj and esraj player.
Phuljhuri Khan was a member of the Maiher String Band of Ustad Alauddin Khan. He visited different places at home and abroad as a member of the dance troupe of uday shankar. Phuljhuri Khan also taught instrumental music at santiniketan, founded by rabindranath tagore, who had been fascinated by his performance on the esraj in the dance drama Chitrabgada. Phuljhuri established a music school at Shillong.
In 1951, Phuljhuri Khan moved to dhaka, where he joined Dhaka Radio Station as a staff artiste. He used to play the sanai on radio.
For his contribution to music, Phuljhuri Khan was honoured by the Government of Bangladesh with the Svadhinata Puraskar in 1978. [Mobarak Hossain Khan]