Khulshi Thana (Chittagong metropolitan) area 12.09 sq km, located between 22°20' and 22°23' north latitudes and in between 91°46' and 91°49' east longitudes. It is bounded by bayejid bostami thana and sitakunda upazila on the north, double mooring and pahartali thanas on the south, panchlaish and kotwali thanas on the east, Pahartali thana on the west.
Population 243351; male 135206, female 108145; Muslim 225487, Hindu 15217, Buddhist 680, Christian 1873 and others 94.
Administration Kulshi thana was established on 27 May 2000 comprising a part of Pahartali and of Panchlaish thanas.
Thana
Ward
Mahalla
Population
Density (per sq km)
Literacy rate (%)
Urban
Rural
Urban
Rural
3+1 (part)
45
243351
-
18548
60.30
-
Ward
Ward No.
Area (sq km)
Population
Literacy rate (%)
Male
Female
Ward No. 08 (part)
2.47
20550
14814
71.50
Ward No. 09
5.93
38488
29948
59.60
Ward No. 13
3.26
37667
32019
59.80
Ward No. 14
1.24
38501
31364
55.40
Source Bangladesh Population Census 2001, Bangladesh Bureau of Statistics.
Historical events On 18 April 1930 the revolutionaries of Chittagong, under the leadership of MASTerda surya sen, captured arms and ammunitions of Pahartali armoury.
Marks of the War of Liberation Memorial monument 1 (Shikha Anirvan at Batali Hill), mass killing site 1 (adjacent to the Foy's Lake Eye Hospital).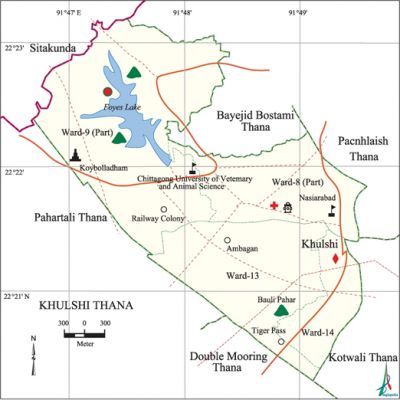 Religious institutions Abu Humaiyah Mosque, Mazar of Hazrat Shah Sufi Haji Syed Akram Ali (R), Kaibalya Dham Mandir (temple), Shitla Kali Mandir, Matijharna Shiva Mandir and Buddhist temple at Baghghona Chanmari Road are notable.
Literacy rate and educational institutions Average literacy 60.30%; male 65.80%, female 53.20%. Noted educational institutions: Government Mohila College, Omarghani MES University College, Government Veterinary College, Pahartali Degree College, Ispahani School and College, Government Girls' School, Nasirabad Technical Training Centre.
Noted installation Embassies of India and Russia, Television Bhaban, Dampara Police Line, Weather and Earthquake Measuring Centre, Jhautal Wireless Station, Railway Workshop, Directorate of Environment, Office of National Housing Authority.
Amusement centres foy's lake, Concord Amusement World, Railway Museum and Zoological Garden.
Main occupations Agriculture 1.98%, non-agricultural labourer 1.46%, industry 2.99%, commerce 16.05%, transport and communication 12.69%, construction 3.38%, religious service 0.22%, service 42.35%, rent and remittance 1.78% and others 17.10%.
Ownership of agricultural land Landowner 27.21%, landless 72.79%.
Noted manufactories Cleopatra Knit Design Limited, Erina Fashion Limited, Harold Apparels Limited, Sanguine Apparels Limited, Unity Apparels Limited, Paravati Apparels Limited, Invent Clothing Limited, Knit Ware Apparels Limitd, Fafi Apparels Limited and Metro Apparels Limited.
Hats, bazars and shopping centres Hats and bazars: Karnafuli Complex Bazar, Lalkhan Bazar, Baghghona Bazar, Matijharna Bazar, Jhautala Bazar, and' Debarpar Bazar. Shopping Complex: Highway Plaza, Amin Centre, Arcadia Shopping Complex, Ghani Complex, PUNAK Hastashilpa and Bastrashilpa Bipani and City Corporation Market.
Access to electricity All the wards of the thana are under electricity net-work; however 85.32% dwelling households have access to electricity.
Sources of drinking water Tube-well 36%, pond 0.57%, tap 55.53% and others 7.90%.
Sanitation 66.66% of dwelling households use sanitary latrines and 30.32% of dwelling households use non-sanitary latrines; 3.02% of dwelling households do not have latrine facilities.
Noted health centres Chittagong Diabetic Hospital, Lions Eye Hospital, Southern Medical College and Hospital, Bangabhandu Memorial Hospital, Holly Cross Hospital, Sahik Deaf and Dump Hospital. [Md. Abdul Baten]
References Bangladesh Population Census 2001, Bangladesh Bureau of Statistics.