Kodla Matha is one of the remarkable examples of xikhara type of temple in Bagerhat while there are two others popularly known as the Mathurapur Deul in Faridpur and Sarkar's mathas in Mahilara in Bakerganj. All mathas are dated to the 17th century. The sikhara or rekha type is also known as the nagara style in Indian architectural aesthetics.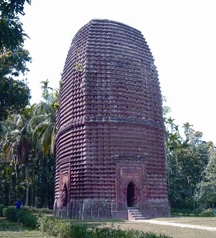 Kodla Matha has other popular names, such as Ayudha matha. It is situated in the village Ayudha, some 10 km north from shatgumbad mosque (15th century), Bagerhat, a world heritage site. This is an ancient old Hindu temple decorated with terracotta. It is unlike other common type of Hindu temples in the subcontinent. Its shape and design makes a new genre, in fact.
In plan, the Kodla Matha consists of a 3.048 square meter chamber with 2.74 meter thick walls. It has three entrances on each side, except the north with the main doorway facing south. The arches on the doorway are of the corbelled type but the pendentives are built with true pointed arches which support the semi-circular dome inside.
The exterior face is polygonal with five recesses on either side of the central face, making six planes and eleven recesses. The gradual receding spire rises to a height of about 18.28 meter from the surrounding ground and is relieved with straight horizontal lines, intersected by a series of projecting vertically curvy lines at a distance of around 14 inches. The facade treatment and decoration of the Kodla Matha is one of the main attractions of the temple. The architectural style of the Matha relates to the shikhara type with its high structure like a pyramid.
There were a fragmentary Bengali inscriptionS on a brick fixed over the cornice, which records that the Maths was erected by a Brahmin, and was dedicated to Taraka Brahma to get the grace of Brahma, the deity, probably in the early 17th century.
Like some of the surviving heritage structures, the Kodla Matha still stands with its beauty and majesty, though in decline. Today the best work is preserved on the northern facade where the central band of the frame of the false doorway has some very delicate floral patterns. [Nasrin Akhter]
See also mathas