Kotwali Thana (Khulna Metropolitan)
Kotwali Thana (Khulna Metropolitan) area 9.45 sq km, located in between 22°43' and 22°50' north latitudes and in between 89°29' and 89°24' east longitudes. It is bounded by khalishpur thana and rupsa upazila on the north, batiaghata upazila on the south, Rupsa upazila on the east, sonadanga thana on the west.
Population Total 250651; male 133824, female 116827; Muslim 220011, Hindu 27260, Buddhist 3268, Christian 76 and others 36.
Water bodies Main river: rupsa.
Administration Kotwali Thana was formed in 1836.
Thana
Ward
Mohalla
Population
Density (per sq km)
Literacy rate (%)
Urban
Rural
Urban
Rural

9

63

250651

-

26524

72.86

-
Ward
Name number of Ward
Area (sq km)
Population
Literacy rate (%)
Male
Female

Ward no. 21

1.39

15094

9890

67.51

Ward no. 22

0.61

11534

10099

61.45

Ward no. 23

0.13

9657

8675

83.79

Ward no. 24

1.18

23049

19910

72.90

Ward no. 27

0.46

16652

14837

74.69

Ward no. 28

0.41

11540

10864

75.72

Ward no. 29

0.29

10590

9841

82.31

Ward no. 30

0.93

18719

17108

74.12

Ward no. 31

4.05

16989

15603

66.66
Source  Bangladesh Population Census- 2001, Bangladesh Bureau of Statistics.
Archaeological heritage and relics 'Kuthibari' of Mr Charlie near the railway station.
Marks of War of Liberation Sculpture 1 (Durjoy '71 at Shaeed Hadish Park).
Religious institutions Mosque 56, temple 13, church 2. Noted religious institutions: Town Jami Mosque, Tutpara Puratan Bara Jami Mosque, Baitul Aman Jami Mosque, Dolkhola Tabligh Mosque, Bazar Kalibari Mandir, Ayra Dharmasabha Mandir, Shitalabari Mandir.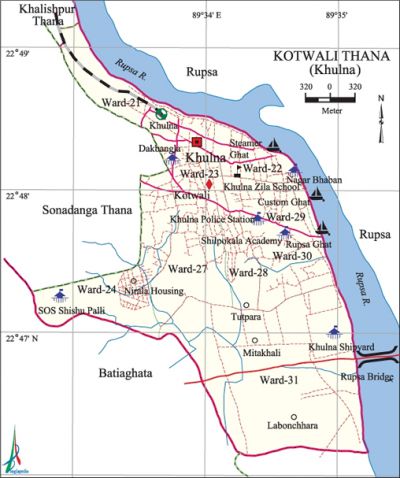 Literacy rate and educational institutions Average literacy 72.86%; male 76.61%, female 68.51%. Noted educational institutions: Azam Khan Commerce College, Govt. Pionerar Mohilla College, Khulna Zila School (1885), Khulna City Corporation Collegiate School, Sent Josef High School, Coronation Govt. High Schoo, Tutpara Model Government Primary School (1896), Victoria Infant Primary School, Khulna Alia Madrasa.
Cultural organisations Club 2, community center 5, playground 3.
Newspapers and periodicals Dailies: Purbanchal, Janabarta, Probaho, Tattho, Janmabhumi, The Daily Muslim World; Weekly Monon, Monthly Dhupchhya; Extinct: Khulna Barta (1925), Khulna Bashi (1930), Desher Dak (1965), Sabujpatra (1952), Swadhikar (1970), Kichirmichir (1972), Wave, Motherland.
Cultural organisations Library 1, theater stage 1, theater group 12, club 30, cinema hall 3, women's organisation 7, playground 1.
Important installation Khulna Nagar Bhaban, khulna shipyard, Khulna Stadium, Circuit House, District Jail, Forest Office, Khulna Shilpakala Academy.
Main sources of income Agriculture 31.18%, non-agricultural labourer 5.55%, industry 1.66, commerce 29.34%, transport and communication 6.99%, construction 3.11%, religious service 0.21%, rent and remittance 1.84% and others 20.12%.
Ownership of agricultural land Landowner 46.45%, landless 53.55%.
Main crops Paddy, wheat, sesame, mustard, onion, garlic.'
Extinct or nearly extinct crops Jute.
Fisheries, dairies and poultries Fishery 47, dairy 55, poultry 71.
Main fruits Mango, jackfruit, coconut, banana, sapodilla, papaya.
Communication facilities Pucca road 44 km, semi-pucca road 25 km, mud road 10 km; waterways 2 nautical miles; railways 1. Helipad 1, ferry ghat 2.
Extinct or nearly extinct traditional transport Palanquin, bullock and horse cart.
Noted manufactories Shipyard, match industry, oil mill, ice factory, rice mill, flour mill, plastic industry, ballpen factory, ice cream factory, ink made factory, garments factory. Khulna Shipyard Limited, Dhaka (Dada) Match Factory, Bangladesh Match Factory are notable.
Cottage industries Goldsmith, blacksmith, shoe factory, semai factory, bakery, wood work.
Hats, bazars and fairs Hats and bazars are 6, super market 7, fair 3, most noted of which are Jalil Tower Shopping Complex, Mena Bazar, Dolkhola Bazar, Natun Dolkhola Bazar, Natun Bazar.
Main exports Prawn, crab, ready made cloths.
Access to electricity All the wards of the thana are under rural electrification net-work. However 85.91% of the dwelling households have access to electricity.
Sources of drinking water Tube-well 93.29%, tap 6.23%, pond 0.23% and others 0.26%.
Sanitation 87.93% of dwelling households of the upazila use sanitary latrines and 10.80% of dwelling houses use non-sanitary latrines; 1.26% of households do not have latrine facilities.
Health centres Hospital 1, eye hospital 2, diabetic society 1, maternity 1, homeo medical college hospital 1, general hospital 1, child hospital 1.
NGO activities brac, asa, proshika, CARE, caritas, CMM, UCEP. [Shah Siddiq]
References Bangladesh Population Census 2001, Bangladesh Bureau of Statistics.