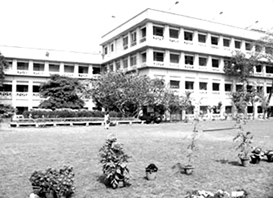 Lady Brabourne College was originally conceived in the late thirties of the 20th century as an institution offering modern education to the Muslim girls in undivided India. Even in the mid-thirties of the 20 th century, there was a paucity of Muslim girls in the middle and high schools though the position was rather different at the primary level. The Muslims had, by that time, given up their earlier aversion for western education and were no longer apathetic to modern education for their girls. But, apart from the general poverty of the community, facilities to meet its particular needs were totally absent.
From the beginning of the 20th century the then Government of Bengal started taking special steps for the education of Muslim girls. The demand for a separate college for the Muslim girls - a purdah college as it was then called - became quite strong. In 1938-39, the Government sanctioned the scheme for the establishment of a new college for Muslim girls and the Government budget for 1939-40 provided seventy-one thousand rupees for its implementation. The proposed college was named after Lady Brabourne (wife of Bengal Governor Lord Brabourne) who died on 23 February 1939.
The College started in July 1939 in a rented house in Park Circus with thirty-five Muslim girls in the First Year Arts class. The foundation stone of the College along with a Girls' hostel and the Principal's quarters was laid by Sir Woohead, then Governor of Bengal, on 26 August 1939. The Government granted two lakh rupees for the purpose. The college shifted to its new premises in July 1941.
The college, along with its surroundings, has undergone thorough changes in the last sixty years. The slums and the marshy lands in the area have disappeared to make room for thoroughfares frequented by all sorts of vehicular traffic and pedestrians, sprawling mansions and the majestic Park Circus Maidan. The college witnessed rapid expansion. With the addition of another storey to the original building and the construction of the imposing Science block adjacent to it, the entire set-up with its spacious lawns looks more majestic. The number of students rose steadily, the college meanwhile deciding to admit non-Muslim girls as well due to the dearth of Muslim girls seeking admission. From the mid-seventies of the 20th century, the number of students of the college has remained above 1000. The academic staff of the college, apart from the Principal, Miss FE Grose, MA (Cantab), consisted of only nine members in 1939. But the number exceeded 100 in the 1980s.
At present, the college has Honours courses in Bengali, Economics, English, Geography, History, Persian, Philosophy, Political Science, Sociology, Sanskrit, Urdu, Botany, Chemistry, Mathematics, Physics and Zoology. Science departments are equipped with modern laboratories and the rich college library has about one lakh books.
The achievements of the students, both in academic and extra-curricular activities, have been brilliant throughout all these years. They have won laurels in University and Board examinations, thus making the college one of the best in West Bengal. The college observed its diamond jubilee in 1999. [Hena Mukherjee]