Langal (literally, the plough) weekly journal published from Kolkata and edited by kazi' nazrul islam. The first issue was published on 16 December 1925. Nazrul had had some experience of journalism, having worked in periodicals such as nabajug and Sebak. He had also published dhumketu (1922). Labgal was his second independent endeavour in journalism. Langal was the official journal of Shramik-Praja-Swaraj-Sampraday, an organisation of the working class. Though Nazrul was the editor of the journal, his name appeared on the cover as chief director, while the name of Monibhushan Mukherji appeared as editor. On the cover of Langal was a picture of a farmer with a plough on his shoulder. There was also a picture of a farmer ploughing a field on top of the first page. A quotation from chandidas was printed on the first page, preaching the glory of mankind.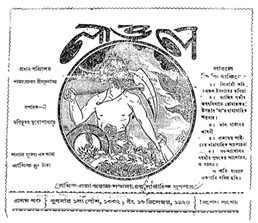 The main attraction of the first issue was a group of eleven poems under the heading, Samyabadi (Equality). These poems on peasants, women, day-labourers, porters etc, depicting their miserable and oppressed life, were later published in book form. About 5,000 copies of this special issue were printed, but the demand was so great that all copies were sold out quickly. Nazrul, as convenor of the Sramik-Praja-Swaraj-Sampraday, also published the manifesto of the organisation in this issue.
Nazrul published some of his famous poems in Langal, for example, 'Krsaker Gan', (songs of the peasants), 'Sabyasachi' (an ambidexter, or Arjuna of the mahabharata) and 'Sarba-Hara' (the destitute). Some other articles in Langal, by different writers, were on contemporary socialist figures such as Karl Marx and Lenin or on political trends in Soviet Russia, China etc.
Langal also published a special issue on subhas chandra bose on 21 January 1926, his birth anniversary, which included his biography and some of his unpublished letters. Among the contributors to the journal were muzaffar ahmed and sATYendranath tagore, who published an article on Hindu-Muslim unity. Nripendra Krishna Chatterji's Bangla translation of Gorky's Mother was serialised in the journal. The 15th and last issue of Langal was published on 15 April 1926. Muzaffar Ahmed published his weekly journal Ganavani on 12 August 1926, which declared on its cover that it had been 'amalgamated with Langal'. Ganavani was also the official journal of Bangiya Krsak O Shramik Dal.
The Langal stood for equality, social justice, peace and communal harmony. It also depicted the political awareness of Nazrul Islam. [Mohammad Abdul Qayyum]