Liberation War Museum a holding for collection, preservation and display of the objects, artifacts and all other materials related to the war of liberation was inaugurated on 22 March 1996 at 5 Segun Bagicha, Dhaka in a two-storied old-sty1e building. There is an eternal flame at the entrance. The following words are carved on a piece of stone there: 'In the name of the moon and sun on the sky, in the name of blood-stained soil of Bengal we vow not to forget any of our martyrs, any event of our history'.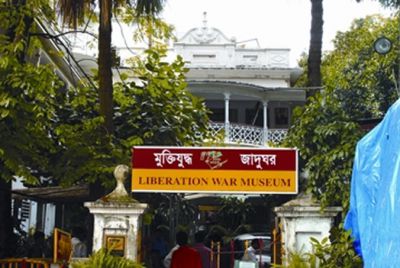 The museum was established at the initiative of some community leaders to meet a historical requirement for preserving the memory and relics of the War of Liberation. It is a people's museum established by community workers. The museum started to operate as an endeavour to maintain records of the historic events of liberation struggle in an objective and authentic way.
Responding to the initiative, many people came forward to donate mementoes, as well as provide other supports including funding assistance to it. It has a board of trustees. The founding members of the board are Aly Zaker, Dr Sarwar Ali, Asaduzzman Noor, Rabiul Hussain, Sara Zaker, Ziauddin Tarek Ali, Mofidul Hoque, and Akku Chowdhury.
The museum has six galleries the first of which demonstrates the customs and traditions of Bengal as well as the struggle against colonial control. The second gallery presents a chronicle of the period of the Pakistani rule from 1947 and especially, the political, economic and cultural oppression on the people of East Pakistan and the resistance against it. The third gallery shows relics of the non-cooperation movement of March 1971, the genocide and resistance, declaration of independence and the plight of the Refugees.The three galleries on the second floor display documents and materials that show various aspects of resistance by the people of East Pakistan, international solidarity to them, the killing of intellectuals by Pakistan Army and its collaborators, and the victory of the Bengali people.
Liberation War Museum collections, Dhaka
The museum has different programmes to foster awareness among the young generation about the heroic struggle for independence. It operates an outreach programme providing transport and other support to the students of educational institutions to visit it. It has a mobile van that operates as a mini-museum and goes to schools of different regions of the country. It has an open stage and a spacious hall for arranging special shows and exhibitions.
The museum in collaboration with eight other similar museums of the world formed an International Coalition of Historic Site Museums of Conscience. Up to 2010, about 428,629 people have visited the museum. The number of collectibles at the museum exceeds 10,000. [Mofidul Hoque]