Madan Upazila (netrokona district) area 225.85 sq km, located in between 24°36' and 24°45' north latitudes and in between 90°51' and 91°04' east longitudes. It is bounded by atpara and mohanganj upazilas on the north, itna and tarail upazilas on the south, khaliajuri upazila on the east, kendua upazila on the west.
Population Total 142072; male 72850, female 69222; Muslim 131741, Hindu 10175, Buddhist 12 and others 144.
Water bodies Main rivers: Bali, Saiduli, Dhalai, Chhela, Baruni, Chinai, Dhanu, Someshwari.
Administration Madan Thana was formed in 1917 and it was turned into an upazila in 1983.
Upazila
Municipality
Union
Mouza
Village
Population
Density (per sq km)
Literacy rate (%)
Urban
Rural
Urban
Rural

1

8

95

122

15870

126202

630

43.3

25.0
Upazila Town

Area (sq km)

Mouza

Population

Density (per sq km)

Literacy rate (%)

15.61

5

15870

1017

43.3
Union
Name of union and GO code
Area (acre)
Population
Literacy rate (%)
Male
Female

Kaitail 42

8958

9992

9639

26.93

Gobindasree 21

6793

8949

8678

28.13

Chandgaon 31

4361

9725

8669

35.72

Tiasree 84

5597

8669

8428

25.59

Nayekpur 73

6382

9829

9776

26.86

Fatehpur 10

8859

8952

8209

22.06

Madan 52

6754

10087

9559

27.58

Maghan 63

8117

6647

6264

23.40



Source Bangladesh Population Census 2001, Bangladesh Bureau of Statistics.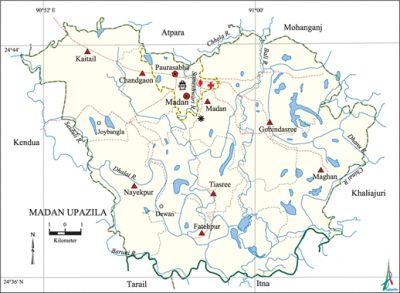 Archaeological heritage and relics Mosque built in Mughal period (Chandgaon Union), tomb of Bura Pir.
History of the War of Liberation In 1971 a number of encounters were held between the freedom fighters and the Pak army in Madan upazila between 1 and 8 November. Many Pak soldiers were killed in the 7 November encounter. A battle was fought between the freedom fighters and the Pak army on 8 November (while the Pak army attempted to rescue their soldiers who were blocked in the trench) in which 54 Pak soldiers were killed.
Religious institutions Mosque 88, temple 11, tomb 1.
Literacy rate and educational institutions Average literacy 27.1%; male 30.7%, female 23.4%. Educational institutions: college 3, secondary school 13, primary school 75, satellite school 10, madrasa 5. Noted educational institutions: Madan Degree College (1986), Jobaida Rahman Mohila College (2002), Jahangirpur Tahura Amin High School (1946), Balali Baghmara High School (1964), Khaguria High School (1965), Fatehpur SOC High School (1968), Madan Shahid Saranika High School (1973), Alhaz Muzaffar Alim Madrasa (1980).
Cultural organisations Library 3, club 25, women organisation 1, cinema hall 7.
Main sources of income Agriculture 78.83%, non-agricultural labourer 2.63%, industry 0.18%, commerce 8.08%, transport and communication 0.97%, service 3.32%, construction 0.7%, religious service 0.29%, rent and remittance 0.1% and others 4.9%.
Ownership of agricultural land Landowner 58.12%, landless 41.88%; agricultural landowner: urban 48.34% and rural 59.37%.
Main crops Paddy, jute, mustard, maize, cotton.
Extinct or nearly extinct crops Sesame, linseed.
Main fruits Mango, jackfruit.
Fisheries, dairies and poultries This upazila has a number of fisheries, dairies and poultries.
Communication facilities Pucca road 65 km, semi-pucca road 6 km, mud road 225 km; waterway 10 nautical miles.
Extinct or nearly extinct traditional transport Palanquin, bullock cart and buffalo cart.
Noted manufactories Flour mill, saw mill, rice mill, welding factory.
Cottage industries Goldsmith, blacksmith, wood work, tailoring, bamboo work.
Hats, bazars and fairs Hats and bazars are 17, fairs 3, most noted of which are Dewan Hat, Arshira Hat, Gobindasree Hat, Joybangla Hat, Kaitail Hat, Tiasree Hat, Chaitra Samkranti Katihali Mela, Barari Mela and Madan Sadar Mela.
Main exports Paddy.
Access to electricity All the words and unions of the upazila are under rural electrification net-work. However 21.97% of the dwelling households have access to electricity.
Sources of drinking water Tube-well 95.47%, tap 0.33%, pond 1.4% and others 2.8%. The presence of arsenic has been detected in shallow tube-well water of the upazila.
Sanitation 15.52% (rural 11.74% and urban 45.15%) of dwelling households of the upazila use sanitary latrines and 71.85% (rural 75.14% and urban 46.07%) of dwelling households use non-sanitary latrines; 12.63% of households do not have latrine facilities.
Health centres Upazila health complex 1, health and family planning centre 8.
NGO activities Operationally important NGOs are brac, caritas, proshika, asa. [Syed Marufuzzaman]
References Bangladesh Population Census 2001, Bangladesh Bureau of Statistics; Cultural survey report of Madan Upazila 2007.