Madhupur Upazila (tangail district) area 332.13 sq km, located in between 24°47' and 24°31' north latitudes and in between 90°10' and 89°57' east longitudes. It is bounded by muktagachha and jamalpur sadar upazilas on the north, gopalpur and ghatail upazilas on the south, fulbaria and Muktagachha upazilas on the east, dhanbari and Gopalpur upazilas on the west.
Population Total 234299; male 109387, female 104911; Muslim 196134, Hindu 5686, Buddhist 12323, Christian 19 and others 137. Indigenous communities such as garo and Koch belong to this upazila.
Water bodies Main river: bangshi; Guta Canal is notable.
Administration Madhupur Thana was formed in 1898 and it was turned into an upazila in 1983.
Upazila
Municipality
Union
Mouza
Village
Population
Density (per sq km)
Literacy rate (%)
Urban
Rural
Urban
Rural

1

6

131

171

85014

149285

633

44.7

36.00
Union
Name of union and GO code
Area (acre)
Population
Literacy rate (%)
Male
Female

Arankhola 24

6163

13770

13665

43.06

Ausnara 28

5708

12857

13097

43.34

Alokdia 21

4820

12050

11358

51.20

Golabari 66

5138

8006

8095

38.30

Mirzabari 78

6522

14380

14650

43.49

Solakuri 92

4682

13965

13392

42.60
Source  Bangladesh Population Census 2001, Bangladesh Bureau of Statistics.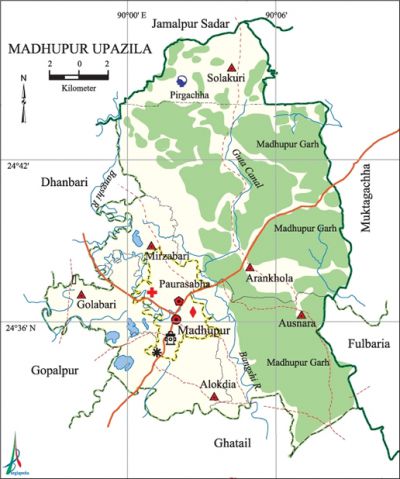 History of the War of Liberation In April 1971 an encounter was held between the freedom fighters and the Pak army in the upazila in which 5 Pak soldiers including a Captain were killed.
Literacy rate and educational institutions Average literacy 25.3%; male 30.2%, female 20.1%. Educational institutions: college 5, vocational college 1, secondary school 30, primary school 54, community school 5, NGO school 1, madrasa 36. Noted educational institutions: Madhupur University College (1972), Madhupur Technical College (2004), Madhupur Shahid Smrity Higher Secondary School (1972), Rani Babhani High School (1939).
Newspapers and periodicals Daily: Progatir Alo, weekly: Madhupur Barta, fortnightly: Madhubani.
Cultural organisations Library 9, club 76, cinema hall 6, playground 29, dakbungalow 6, cultural organisation 1.
Tourist spots madhupur national park.
Main sources of income Agriculture 63%, non-agricultural labourer 2.14%, industry 0.53%, commerce 13.05%, transport and communication 1.21%, service 8.90%, construction 2.40%, religious service 0.22%, rent and remittance 0.70% and others 7.85%.
Ownership of agricultural land Landowner 64.40%, landless 35.22%; agricultural landowner: urban 55.19% and rural 66.57%.'
Main crops Paddy, wheat, jute, sugarcane, potato, cotton, ginger, turmeric, betel leaf, kasava, vegetables.
Extinct or nearly extinct crops Khesari, gram, local varieties of paddy.
Main fruits Mango, jackfruit, pineapple, papaya, litchi, olive.
Fisheries, dairies and poultries Poultry 200, nursery 11.
Communication facilities Pucca road 140 km, mud road 190 km; waterway 9 nautical miles.
Extinct or nearly extinct traditional transport Palanquin.
Noted manufactories Silk mill, rice mill, flour mill, lathe and welding factory, saw mill, bakery, bidi factory.
Cottage industries Goldsmith, blacksmith, potteries, weaving, bamboo work, tailoring; apiculture by private initiative.
Noted hats, bazars and fairs Madhupur Hat, Jolchhatro Hat, Pirojpur Hat, Gangaier Hat, Garo Bazar, Moter Bazar, Gopal Angina Gosthajatra Mela, Solakuri Baishakhi Mela and Jaitatul Devta Mela.
Main exports Pineapple, jackfruit, silk, kasava, cotton, honey.
Access to electricity All the wards and unions of the upazila are under rural electrification net-work. However 20.03% of the dwelling households have access to electricity.
Natural resources Honey, herbal medicine, flax, incense.
Sources of drinking water Tube-well 86.87%, tap 0.60%, pond 0.41% and others 12.12%.
Sanitation 46.25% (rural 45.55% and urban 49.23%) of dwelling households of the upazila use sanitary latrines and 22.28% (rural 21.76% and urban 24.47%) of dwelling households use non-sanitary latrines; 31.47% of households do not have latrine facilities.
Health centres Upazila health complex 1, union health and family welfare centre 6, satellite clinic 6, charitable hospital 2, missionary hospital 1, leprosy hospital 1, maternity hospital 1, clinic 4, health care centre 1.
NGO activities Operationally important NGOs are caritas, World Vision, proshika, brac, asa, World Tourist Mission, Family and Child Welfare Centre. [Joinal Abedin]
References Bangladesh Population Census 2001, Bangladesh Bureau of Statistics; Cultural survey report of Madhupur Upazila 2007.