Maheshvarpasha Jorbangla Temple
Maheshvarpasha Jorbangla Temple late medieval temple architecture imbibed with local folk features. Situated at the village named Maheshvarpasha in Daulatpur upazila of Khulna district, this brick temple was built by Gopinath Goswami, a famous sadhu of local Mallick family, in 1749 AD (1671 Shakabda) in the reign of Nawab alivardi khan. An inscription on the eastern facade of the temple has in record the name of the builder and the date of construction. Small kiln-burnt bricks with lime and shurki (powdered bricks) mortars were used in the construction of the temple.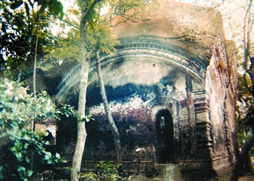 The south-facing temple stands on a square (7.01m a side) platform, about 0.91m high from the ground. The square temple has been divided into two parts by a 1.07m wide wall in the middle. The northern part (5.45m ' 2.29m) is the garvagrha, and the southern (5.45m ' 1.52m) part is used as the veranda. Do-chala hut type of roofs with curved cornice cover the two parts of the temple, the thick wall in the middle serves as the common wall of the two rooms. On top of the curved roof of each room stand three finials. The southern facade of the temple is emphasised by three arched entrances built on two columns. The four-centred pointed arches have in their inner face cusped designs with ornamental bricks. The entire frontal surface is covered with terracotta plaques, the ones in the spandrel of the arches are most attractive. The spandrel of the central arch is decorated with plaques depicting the scenes of war between Rama and Ravana. The spandrels of the flanking arches contain plaques depicting naked females and royalties, speeding horsemen and armed soldiers. Besides these, the terracotta plaques of this temple contain representation of everyday life of the common people, birds and animals and scenes depicting social and cultural life of the time. The side and back walls are devoid of any decoration.
A single arched doorway, placed in the centre of the middle-wall, provides entrance to the garvagrha. A window on its either side flanks the door. In both the rooms of the temple there is a pair of deep niches on the western and eastern wall. The main altar, on which the deity was placed, occupies the central position of the floor in front of the northern wall of the garvagrha. There is a small arched doorway in the northwestern corner of the garvagrha, which provides passage towards the back of the temple. [Mohammad Alamgir]