Mahmud, Mamun (1928-1971) police officer, martyr in the War of Liberation. His actual name was Salauddin Mahmud. He was born in Chittagong on 17 November 1928. His father Wahiduddin Mahmud was a physician and his mother shamsunnahar mahmud was a noted litterateur and leader of the women emancipation movement. Mamun Mahamud had his early education at Prat Memorial School in Kolkata. He passed matriculation examination in 1943 from Baliganj Government High School in Kolkata, IA in 1945 from Presidency College and obtained his graduation in 1947 from Aligarh University. After the partition of India in 1947 he came to East Bengal and obtained MA degree in Public Relations from Dhaka University in 1949.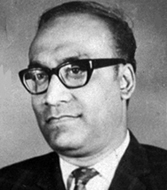 Mamun Mahmud successfully competed in the Pakistan Central Superior Service examination and joined the Police Service. He served as police super in different subdivisions and later as district police super. In 1971, he was the Deputy Inspector General of Police in Rajshahi Range.
Mamun Mahmud was a straight forward and upright police officer. He was often found defying unreasonable instructions of the authority. Thus at times he incurred displeasure of the government. He arrested some non-Bangali miscreants at Mirpur on 1 November 1969 and defied the order of the government to fire on the agitating mass attempting to spoil a meeting of Maulana Maududi at Paltan Maidan on 17 January 1970.
He was instantly transferred to Mymensingh with 24 hours notice. On 3 March 1971, a number of Bangalis were killed in Rajshahi by the Pak army. As a protest, Mamun Mahmud hoisted black flag on his official residence. In the morning of 26 March, a captain of the Pak army while attempted to enter the treasury house without pass-order was opposed by the sentries of the treasury. Mamun Mahmud defied the pressure of the higher authority for the arrest of the sentries. On that very evening, one Pakistani army officer escorted him to Rajshahi cantonment on the plea that Brigadier Abdullah was waiting for a talk with him from Rangpur over wireless. Thereafter Mamun Mahmud could no longer be traced. On April 13, the Indian radio Akashbani transmitted the news of killing of the DIG of Rajshahi.'
Brought up in a cultural environment Mamun Mahmud had cultural bent of mind. While a student of Dhaka University he was active in dramatic and sports movement of East Bengal. He was a singer of Rabindra sangeet. Mamun Mahmud was an enlisted player of the Fazlul Huq Hall football team of Dhaka University, Wari Club and of police football team. In 1954, while the sub-divisional police officer at Kurigram he established the Kurigram cricket club. He was the chairman of Pakistan Football Federation Referees Board. Mamun Mahamud was the first editor of the Detective, a police journal published since 1956.
The Postal Department of the Government of Bangladesh issued commemorative postal stamp in the name of Mamun Mahmud on the Martyred Intellectual Day on 14 December 1995. Besides, the Dhaka City Corporation has named a road in Dhaka as Mamun Mahmud Sarak. [Abu Md. Delwar Hossain]