Mahmud, Shaheed Altaf (1933-1971) singer, cultural activist and martyred freedom fighter, was born in 1933 in barisal town. His given name was ANM Altaf Ali. He matriculated from Barisal Zila School in 1948 and studied for some time at B M College before leaving for Calcutta to learn painting at Calcutta Arts School.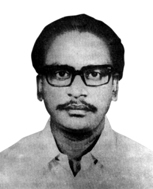 Altaf Mahmud's love for singing was revealed in his boyhood when he started practising music while still at school. Soon he learnt to sing gana sabgit or people's songs and became famous for his performances at different cultural functions. He received his first lessons in singing from the famous violin player Suren Roy. Altaf Mahmud came to dhaka in 1950 and joined a cultural organisation named Dhumketu Shilpi Sangha. He joined the language movement and sang many songs to help promote the mass movement. Altaf Mahmud set to music the famous song 'Amar Bhaier Rakte Rabgano Ekushe February, Ami ki bhulite pari?' (My brother's blood-stained Ekushe February, Can I forget it?) widely sung for the martyrs of the language movement. This has secured for him a unique position in the hearts of the people of Bangladesh.
Altaf Mahmud was invited to the Vienna Peace Conference in 1956 and went to Karachi to get a visa. However, his passport was confiscated by the Pakistan Government and he was unable to go to Vienna. Instead of coming back home, he stayed on in Karachi up to 1963 and took lessons in classical music from Ustad Abdul Kader Khan. He was also associated with the noted dance director Ghanashyam and music director debu bhattacherjee.
Altaf Mahmud came back to Dhaka in 1965 and started working as a music director in different films. He worked in as many as 19 films including Tanha, Kaise Kahu and Kar Bau. He also continued organisational activities in politics. He was associated with different cultural organisations including Kranti Shilpi Gosthi and sang gana sangit (people's songs). He was equally proficient in painting and graphics
Altaf Mahmud was one of the pioneers who struggled for Bengali culture. He greatly inspired the freedom fighters and pro-liberation forces in 1971 by composing and singing patriotic songs, which were broadcast by swadhin bangla betar kendra. In addition, he supported the freedom fighters by providing them food and money. The Pakistani Army arrested him from his residence on 30 August 1971 and killed him brutally.
In 1977 Altaf Mahmud was awarded the Ekushey Padak posthumously for his valuable contribution to Bengali culture and the war of liberation. [Mobarak Hossain Khan]