Mahmud, Shamsunnahar (1908-1964) writer and educationist, was born at Guthuma village in feni district in 1908. Her father, Mohammad Nurullah, was a munsiff. khan bahadur abdul aziz was her grandfather and habibullah bahar chowdhury was her brother.
Shamsunnahar studied for some time at Khastagir Girls' High School in Chittagong, but appeared in the Matriculation examination (1926) as a private candidate. The next year she was married to Dr Wahiduddin Mahmud, who encouraged her to study. She passed her IA (1928) and BA (1932). Ten years later, she did her MA in Bangla (1942). She was accorded a reception by Sakhawat Memorial High School after she passed her BA. She also joined the women's education and emancipation movement pioneered by roquiah sakhawat hossain.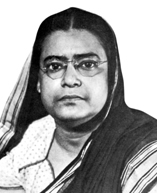 She started her career as a teacher of Bangla at lady brabourne college. During her stay in Kolkata, she met kazi nazrul islam, who inspired her to write. She used to attend the Bangiya Mussalman Sahitya Sammelan (Bengali Muslim Literary Convention).
Shamsunnahar worked as secretary to the Nikhil Banga Muslim Mahila Samity (All Bengal Muslim Women's Society) for some time. She visited Turkey and the Middle East as a representative of East Pakistan in 1952. She led a delegation to the International Council of Women in Colombo and joined the International Friendship Organisation as regional director for the whole of Asia. She visited several countries, including the United States, England, France, and Italy. The Centre for the Rehabilitation of Disabled Children was established at her initiative in 1961. She was elected member of the National Assembly in 1962.
Shamsunnahar's first poem was published in a juvenile monthly magazine Abgur (Grapes). She edited the women's sections of magazines called Nauroj (New dawn) and Atmashakti (Self-power) while an IA student. Together with her brother, Habibullah Bahar, she edited the magazine Bulbul (1933) published from Kolkata. Some of her other noted works include Punyamayi (The Pious Woman, 1925), Phulbagicha (The Flower Garden, 1935), Begum Mahal (The Palace of Women, 1936), Roquiah Jibani (Life of Roquiah, 1937), Shishur Shiksa (Lessons for Children, 1939), Amar Dekha Turaska (The Turkey I Visited, 1955), Nazrulke Yeman Dekhechhi (Nazrul, As I Saw Him, 1958). Kazi Nazrul Islam dedicated his volume of poems called Sindhu-Hindol (1927) to 'Bahar and Nahar'.
Shamsunnahar Mahmud died on 10 April 1964 in Dhaka. In her memory, the second women's hall of the university of dhaka was named Shamsunnahar Hall after her death. [AKM Saifuzzaman]