Majid, Khan Bahadur Syed Abdul
Majid, Khan Bahadur Syed Abdul (1872-1922) lawyer, politician. He was born in 1872 at Kazi Iliyas Mahalla in Sylhet town. He had a nickname, Kaptan Mia. His father Syed Abdul Jalil was a distinguished alem. He is said to have been a descendant of Syed Shah Mostafa Bagdadi, a close associate of hazrat shah jalal (R).
Syed Abdul Majid had his primary education in Nawab Talab Banga Vidyalaya. He passed Matriculation examination in 1887 from Sylhet Zila School. Later he studied in Presidency College and St Xaviers College of Kolkata. He obtained his BA degree in 1892 and BL degree in 1894.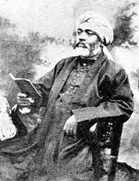 Syed Abdul Majid joined the legal profession in 1894 in Sylhet. But soon he left the bar and engaged himself in developing agricultural farming. Abdul Majid joined the Anjuman-e-Islamia, the solitary political forum of the Muslims before the foundation of Muslim League. He was elected the secretary of the district unit of Anjuman-e-Islamia in 1902 and was later made president of the unit. Since 1906, he had been the vice chairman and later the chairman of Sylhet Local Board for long 15 years. He was a member of the All India Mohamedan Conference. During the visit of Emperor George V to India in 1911 Syed Abdul Majid attended the Delhi Darbar as an invited elite.
By his initiative the Muslim Hall (present Shaheed Sulaiman Hall) for Anjunan-e-Islamia was established in Sylhet in 1912. He was the president of the reception committee at the felicitation ceremony arranged in Sylhet in 1919 in honour of the great poet Rabindranath Tagore. Syed Abdul Majid was honoured with the title of 'Khan Bahadur' by the British Government of India in 1918, and later the government conferred upon him the title of CIE (Companion of the Order of Indian Empire).
Syed Abdul Majid was elected a member of the Assam Legislative Assembly (MLA) in 1921 from the Sylhet sadar constituency. He was included in the Assam provincial cabinet in charge of the Ministry of Education. It was by his endeavour that the MC College of Sylhet was elevated to the first grade degree college in 1916. He was one of the founders of Sylhet Aliya Madrasa.
Syed Abdul Majid became a tea planter by establishing consecutively three tea gardens in Sylhet. He was virtually the pioneer among the native entrepreneurs contributing towards the development of tea industry. He was a Director of the All India Tea and Trading Company. He died in Shilong town on 29 July 1922. [MKI Quayyum Chowdhury]