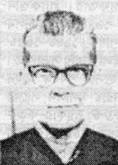 Majumdar, Phanibhushan (1901-1982) politician. Born in 1901 at village Sendia in Rajoir upazila of Madaripur district. His father was Satish Chandra Majumdar. Phanibhushan Majumdar passed matriculation examination from Madaripur HE School, ISc from Bankura College and BA from Vidyasagar College in Kolkata. He obtained law degree from Ripon College, Kolkata.
Phanibhushan Majumdar was involved in active politics since his student days. He joined the Biplobi Party in 1919 and worked as an activist of the secret unit of the party. He was an active worker of the Madaripur Peace Force in 1925. He was arrested in 1930 for his political activities and was kept confined till 1938. After his release Phanibhushan Majumdar had active role in the formation of Madaripur Voluntary Force in 1938. He was a close associate of Netaji subhas chandra bose and was nominated as the secretary of Bengal Forward Bloc in 1938.
He was again arrested in 1940 for participating in the movement for removal of Halwell Monument under the leadership of Netaji Subhas Bose. He was released in 1946.
Phanibhushan Majumdar founded the Madaripur Sub-division Weavers' Cooperative Society in 1948. For his active role in the initial stage of the language movement, he was arrested and kept confined in 1948 and later between 1949 and 1953. He was associated with the Awami Muslim League since its inception in 1949. Majumdar was elected a member of the provincial assembly in 1954 from Madaripur-Gopalganj constituency as a candidate of the united front. He was arrested after the promulgation of martial law in 1958 and was kept confined till 1962. He was once again arrested in 1965 under the Pakistan Security Act and was released during the mass-movement of 1969.
Phanibhushan Majumdar was elected a member of the East Pakistan Provincial Assembly as a candidate of the Awami League in 1970. He was the chairman of the regional council for south-western region-2 (Jessore-Faridpur) during the liberation war of 1971. He visited different regions of India to create public opinion in favour of independent Bangladesh, and had an occasion to speak in the Indian Parliament (Loka Sabha).
Phanibhushan Majumdar was included in the cabinet of Bangabandhu Sheikh Mujibur Rahman in 1972 in charge of the Ministry of Food. He was elected a member of the Jatiya Sangsad in 1973 as a candidate of Awami League and once again was included in the cabinet as Food Minister. Later, he was given the charge of the Ministry of Land Administration and Land Reforms. He was the minister of Local Government, Rural Development and Cooperatives in the cabinet of Khondakar Mostaq Ahmad. He was arrested in the martial law regime in 1977. Majumdar was elected a member of the Jatiya Sangsad in 1979 as a candidate of Awami League. He was a member of the presidium of the Awami League. He died on 31 October 1982. [Md. Ali Akbar]