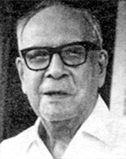 Majumdar, Ramesh Chandra (1888-1980) Doyen of Bengali historians, was born on 4 December 1888 at Khandarpara in Faridpur district. Son of Haladhar Majumdar and Vidhumukhi he graduated with Honours in History in 1909 from Presidency College and MA from Calcutta University in 1911.
He started historical research under the supervision of MM haraprasad shastri. In 1912 he was awarded premchand roychand studentship for his dissertation Andhra-Kusana Period. He started his career in 1913 in Dacca Teachers' Training College. In July 1914, he was appointed a lecturer in the History department of Calcutta University.
In 1919 Calcutta University published Majumdar's PhD thesis, Corporate Life in Ancient India. In July 1921 he joined the newly established Dacca (Dhaka) University as professor of History. In 1924 he published a small book entitled Early History of Bengal. His Outline of Ancient Indian History and Civilization (subsequently re-titled Ancient India) was published in 1927. By this time he had become interested in South-East Asian Studies, learnt French and Dutch, and published Champa (1927), a work dealing with the political, social and cultural history of the Vietnam region. In 1928 he went abroad, studied in the British Museum of London, Kern Institute of Leiden and Bibliotheque Nationale de Paris.  
Then he visited Belgium, Italy, and Germany and came to South-East Asia where he travelled extensively. These travels helped him later to write no less than five authoritative books on South East Asia. Notable among them are the two volumes on Suvarnadvipa, and the two volumes on Kambojadesha. The materials of these individual volumes were used by him to write a single volume, Hindu Colonies in the Far East, first published in 1944, and in a revised second edition in 1963.
While in Dhaka, Majumdar planned a complete history of Bengal in three volumes among which the first, to be edited by him, was to deal with the ancient period, and the second and the third, to be edited by Sir jadunath sarkar, were to deal with the medieval period. Dhaka University published the first volume in 1943. This book was widely acclaimed by scholars all over the world as the first comprehensive work on the ancient period of the history of Bengal. In 1936, Majumdar became the Vice-Chancellor of the Dacca University and held the post till the middle of 1942.
The Bharatiya Vidya Bhavana series under the general title History and Culture of the Indian People in eleven massive volumes was the most important achievement of Majumdar. Seventy-five scholars participated in this project, although many of them breathed their last before all the volumes came to light. Despite their contribution, Majumdar had to write more than half of the total pages. Though a specialist in ancient history, circumstances led him to write on the modern period. He had to carry out fresh research on medieval and modern history in his old age and complete those volumes containing about 9000 pages, 283 plates and 20 maps.
In 1950 he joined the Banaras Hindu University as the founder-principal of the College of Indology, and stayed there till 1953, adopting various measures for its improvement. In 1950 Majumdar was elected a member and Vice-President for the 'International Commission for a History of the Scientific and Cultural Development of Mankind'. The first volume of this series contained erroneous information provided by Western scholars, which he had rectified by adding to the volume his special note.
Majumdar clashed with the Government of India over the 'History of the Freedom Movement' Project. This led him to write four massive volumes - The Sepoy Mutiny and the Revolt of 1857 (one volume, 1957) and History of the Freedom Movement in India (three volumes, 1962-63). In 1955 Majumdar became the founder-principal of the College of Indology of Nagpur University. In 1958-59 he taught Indian history in the Universities of Chicago and Pennsylvania. He was also the president of the Asiatic Society (1966-68) and the vangiya sahitya parisad (1968-69). For some time he was also the Sheriff of Calcutta (1967-68).
Together with hemchandra raychaudhuri and kalikinkar datta he wrote Advanced History of India, a authentic book on Indian history written for undergraduates. He delivered many endowment lectures in different universities of India and was recipient of numerous awards from various academic institutions.
Majumdar lived a full active life of 92 years and breathed his last on 11 February 1980. [Narendra Nath Bhattacharyya]