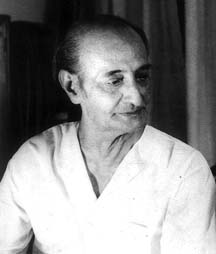 Majumder, Barin (1921-2001) music-teacher, expert on ragas music. Barin Majumder, the Chief Assistant of Agra and Rongila Gharanas, was born on 15 February in 1921 at Radhanagar in Pubna. Nishendranath Majumder and Monimala Majumder were his father and mother respectively.
Although he began his musical education within the family, he had started to obtain advanced learning on that from Visnudev Chatterjee in Kolkata since1938. Since the son had great affinity to music, his father Jamindar Nishendranath brought Ustad Roghnandan Goswami from Lucknow and appointed at his disposal. Later he got admitted strait away in the third year in Morris College of Music in 1939 and secured Bachelor degree on Music from there. He obtained 'Expert in Music' degree from Morris College of Music in 1943. By this time, he had been instructed by Pundit Sri Krishna Ratanjankar, Professor J. N. Nantu, and Ustad Hamid Hussein Khan etc. Afterwards, he was trained on music from Ustad Khurshid Ali Khan, Chinmoy Lahiri, Aftab-e-Musuki, Ustad Fayaz Khan individually.
During Hindu-Muslim riot in 1947, he was permanently settled in Pabna. After the abolition of the zamindari system in 1952, the then Government acquired his ancestral house having occupied by 18 Bighas of land. During that upsetting situation, he came to Dhaka in 1957 and joined as a professor of Classical Music in bulbul lalitakala academy. At the same time, he concentrated to the establishment of a music college being aware of the necessity to the institutionalization of music. Moreover, he formulated a syllabus on music for the Education Board of Dhaka. Noted, he had been performing classical music in Dhaka Betar regularly since 1957. He was able to make an individual art of performance in combination of creativity and knowledge he acquired.
Barin Majumder carried on the functions of the 'College of Music' on 10 November, 1963 consisted of 11 students, 16 teachers and merely 87 taka of cash at a house in Kakrail which was, in fact, set out under an adverse environment. The negative remark of the then ruler Monem Khan in this behalf is still mentionable. Even he had to be imprisoned for 18 days due to a false charge of misappropriation of fund of the college in 1978 which he himself established. Apart from it, he had also established the 'Monihar Music Academy' in order to be offered advanced training on classical music.
Barin had been entertaining a special performer on classical music in Dhaka Television since 1965. Being made a syllabus of degree class, he had incorporated Music College into dhaka university and served as a Chairman of the Examination Body concerning music of Dhaka University till 1977. Furthermore, he had arranged a conference raising fund for the music college where many performers including Najkot-Salamot, Amanat- Fateh, Mehedi Hasan, Asad Ali Khan participated. In 1972, he organised 'Alauddin Music Conference' with the participation of notable Indian vocalists and instrumentalists. In 1973, he had made syllabus for primary, secondary and higher secondary level and served as the Chairman on behalf of the Committee. Moreover, he had served as the Chairman of the Audition and Sedition Board of Bangladesh since 1972-74. He had been entertaining exclusive musical programs since 1981. Besides, he served as an editor in the monthly Surshaptak.
In 1986, he took a courtesy visit to his memorable 'Morris College of Music' in Lucknow. Noted that Pundit Joshoraj inaugurated 'Monihar Music Academy' on 14 March that year. In 1990 Pundit V.G. Jog joined the certificate giving ceremony of the institution. He participated to a three day-long classical music conference on June in 1991 at Shilpakala Academy.
In recognition of his contribution to classical music and development of musical education, he was honoured with the 'Tamgha-e-Imtiaz' (1970), Ekushey Medal (1983), Shidhu Bhai Memorial Award (1988), Best Performer Award (1995), fellowship of Bangla Academy (1997), Janakantha Pioneer Award (1998), the Liberation Award (2001), Rabindra Award (1993), Dilip Kumar, the famous actor of India, presented him a crest. Besides, he wrote two texts entitled by Sangit Koli and Sur Lahori. [Khalid Hasan Kamal]