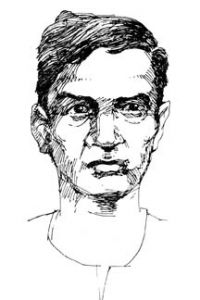 Mallavarman, Adwaita (1914-1951) journalist and novelist, was born in a fishing family in the village of Gokarna in brahmanbaria district. He lost his parents early in his life, but was helped by the fishermen of his village to go to school, and matriculated in the first division from Annada High School in Bhrahmanbaria (1933). He then got admitted to Comilla Victoria College, but had to drop out and start working. In 1934, accompanied by narendra nath datta, a renowned physician and social worker of Comilla, he went to Kolkata in search of livelihood. At Kolkata he edited the monthly Tripura.
He also worked for some time at the Nabashakti, at the mohammadi, the azad, the nabajug, the Krsak and the Jugantar. He joined the Desh as assistant editor in 1945 and continued to work there till his death. He also did part-time work briefly in the publication section of the Visva-Bharati for some time. While still at school, Adwaita started writing short stories, poems, and articles. In the 40's, he became well known through his writings in Ek Paysay Ekti edited by manik bandyopadhyay and buddhadev bose. His only novel, Titas Ekti Nadir Nam (A River Called Titas), was published serially in the Mohammadi (1945-47) and acclaimed most in the literary world. Aided by his personal experience and an inner vision, he realistically portrayed in this novel the life of the fishermen on the banks of the river Titas. The novel was made into a film by ritwik kumar ghatak (1925-1976) in 1973.
Among his short stories are Naya Basat, Ramdhanu, Du Raba Prajapati, Sada Hawa, Dalbendhe, Sagartirthe, Rabamati etc Jibantrsva, his translation of Irving Stone's Lust For Life, was published in the Desh. He also composed a large number of poems for children.
A bachelor, Adwaita spent a major portion of his income on acquiring books and journals. His collection was donated to Rammohan Library after his death from tuberculosis on 16 April 1951. [Gopika Ranjan Chakraborty]