Mamun, Abdullah Al (1942-2008) Playwright, director, actor was born in jamalpur district on 13 July 1942. His father was Abdul Kuddus, a professor, and mother Fatema Khatun. He got BA honours and MA degrees from Dhaka University in 1964.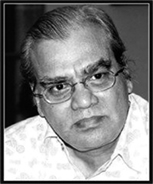 Abdullah Al Mamun's exploits in stage-drama were divided into different categories. On the one hand, he engaged in acting in original plays written and directed by him and, on the other, he directed and acted in plays such as Bankimchandra Chattopadhyai's Krishvakanter Will and rabindranath tagore's Ghare-Baire. Alongside, he directed and acted in plays like William Shakespeare's world-famous drama Othello (translated by munier chowdhury and kabir chowdhury) and Arbuzhav's Purano Pala (adopted by Anisuzzaman).
At the same time, he also acted in dramas written and directed by other individuals. Outside this, Mamun's major contribution in the annals of stage-drama in Bangladesh was directing and acting in poetical play Payer Awaz Pawa Jai written by Syed Shamsul Haque. Staged in 1976, this drama was the first original poetical play in independent Bangladesh. Abdullah Al Mamun committed himself to writing and directing dramas as well as acting since his school days. He was in favour of promoting moral values in social and national life and stood firm against the degeneration of values throughout his career as a playwright.
Notable among his dramas against degeneration of moral values and published in book form included: Subachan Nirbashaney (1974), Ekhono Duhshamay (1975), Ebar Dhara Dao (1977), Shapath (1978), Senapati (1980), Arakshita Motijheel (1980), Cross Rodey Crossfire (1981), Shahzadir Kalo Nekab (1984), Ainay Bandhur Mukh (1983), Ekhono Kritadash (1984), Durpalla (1988), Tritya Purush (1988), Amader Santanera (1988), Kokilara (1990); pathanatak: Ujan Paban, Bibisab o Kursi (1991), Dyasher Manush (1993), Spardha (1996), Meraj Fakirer Ma (1997), Meherjan Arekbar (1998), Janmadin (2006) etc. Not only in writing, he was also very adept in translation and adaptation. He adapted the drama Ghare-Baire by Rabindranath Tagore for stage performance in 1986. 'Dr. Faustus' of Christopher Marlow was translated by him. It was published in the 1st-year 2nd-issue of the periodical Theatre edited by Ramendu Majumdar. He enjoyed extraordinary fame as a television producer, film-maker, drama teacher, novelist and organizer. He wrote and published 7 dramas such as: Manab Tomar Sarajiban (1988), Ah Devdas (1989), Tahader Joubankal (1991), Hai Parvati (1991), Ei Chunilal (1993), Gunda-pandar Baba (1993), Khalnayak (1997). He wrote an autobiography titled Amar Ami and a travelogue titled Manhattan. Besides, he wrote an academic book titled Abhinay (vol. 1).
An important chapter of his life was the production and direction of television plays. He was the first to direct a drama-serial on Bangladesh Television. Notable among TV-serials he produced included: Sangshaptak (26 episodes), Gharoya (52 episodes), Ami Tumi Sey (26 episodes), Pathar Samay (13 episodes), Joar Bhata (200 episodes), Baba (200 episodes), Uttaradhikar (14 episodes) etc.
Abdullah Al Mamun also showed his talent in film-direction. He was active in the mainstream art-film movement of Bangladesh till his last days. Among the films directed by him, notable were: Sareng Bou, Sakhi Tumi Kar, Ekhani Samay, Dui Jiban, Damka, Janamdukhi, Bihabga etc.
In recognition of his contribution in drama he was awarded Bangla Academy Award (1979), Agrani Sahitya Purashkar (1982), Ekushey Padak (2000), Jatiya Television Puraskar (1978), and National Film Award twice as best director and screen play-writer. He died in Dhaka on 21 August 2008. [Saymon Zakaria]