Manikganj Sadar Upazila (manikganj district) area 214.81 sq km, located in between 23°42' and 23°55' north latitudes and in between 89°58' and 90°07' east longitudes. It is bounded by saturia upazila on the north, nawabganj (dhaka) and harirampur upazilas on the south, singair and dhamrai upazilas on the east, Harirampur and ghior upazilas on the west.
Population Total 261662; male 130842, female 130820; Muslim 232407, Hindu 29170, Buddhist 33 and others 52.
Water bodies Main rivers: dhaleshwari, ichamati, Kaliganga, Gazikhali, Gangdubi.
Administration Manikganj Thana was formed in 1845 and it was turned into an upazila 1984.
Upazila
Municipality
Union
Mouza
Village
Population
Density (per sq km)
Literacy rate (%)
Urban
Rural
Urban
Rural

1

10

270

318

53678

207984

1218

66.34

47.64
Municipality

Area (sq km)

Ward

Mahalla

Population

Density (per sq km)

Literacy rate (%)

39.09

9

50

52826

1351

66.55
Upazila Town

Area (sq km)

Mouza

Population

Density (per sq km)

Literacy rate (%)

1.32

2

852

645

53.13
Union
Name of union and GO code
Area (acre)
Population
Literacy rate (%)
Male
Female




Atigram 13

5083

9973

9607

43.23

Krishnapur 71

7445

13686

13208

43.54

Garpara 31

3875

10589

10704

46.55

Jaigir 55

4768

11907

11106

45.70

Dighi 23

3002

8116

8026

52.73

Nabagram 87

3643

8188

8159

52.48

Putail 94

5289

9561

10624

48.72

Betila Mitara 11

4256

10045

10531

52.66

Bhararia 15

4678

9270

9747

49.00

Hatipara 39

5935

12022

13767

45.74
Source  Bangladesh Population Census 2001, Bangladesh Bureau of Statistics.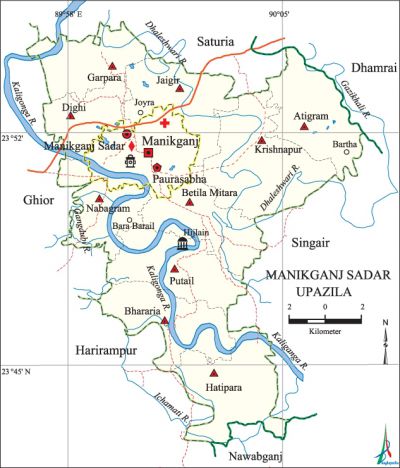 Archaeological heritage and relics Manikganj Jami Mosque, Sree Sree Anandamayee Kalibari (1895), Rajani Bhaban and Jhovat Bhaban (Gangadhar Patti), Matta Math (1894), Narayan Sadhu Asram (1348 BS), Kachari (revenue office) of Ishu Babu (Hijlain), Sivabari Mandir, Neel Kuthi at Baimail.
Historical events A severe battle was fought at Garpara of this upazila between the Bengal Sultan Sikandar Shah and his son Ghiyasuddin Azam Shah, ruler of Sonargaon, in which Sikandar Shah lost his life. Mir Jumla, the Mughal subadar of Bengal, established a military outpost and administrative centre at Garpara in 1662. Following its political importance Garpara was subsequently developed into a river-port. On 12 December 1971 an encounter was held between the freedom fighters and the Pak army at village Kagajinagar in which one freedom fighter was killed. On 14 December one freedom fighter was killed in an encounter with the Pak army at village Manra near the Dhaka-Aricha highway. The freedom fighters retreated and resumed attack on the Pak army near village Laokhanda coming through the Gangadhar Patti via Porra. The Pak army took position on the northern side of the Road and the freedom fighters on the southern side. Both the freedom fighters and the Pak army continued assault advancing through Jagir, Golra, Nayadingi and Barbaria. In this encounter one Pak soldier was killed. During 1987-1988 Bandh Kata (dismantling the embankment) movement was held at Nayakandi of the upazila.
Marks of the War of Liberation Memorial monument 1 (built in memory of 49 martyr freedom fighters at a place adjacent to the western side of the Manikganj Bus-stand).
Religious institutions Mosque 370, temple 98, tomb 10, dargah 2, sacred place 1. Noted religious institutions: Manikganj Jami Mosque, Court Mosque, Sheota Graveyard Mosque, Bus-stand Jami Mosque, Porra Mosque, Beutha Mosque, Betila Mosque, Bhat Bhaur Jami Mosque, Bazar Mosque, Uchutia Jami Mosque, Vikra Jami Mosque, tomb of Mafizuddin (Dashra), Garpara Imambari Mazar, Rahim Darbar Sharif (Bhat Bhaur), Khoda Baksh Darbar Sharif (Bhat Bhaur), Sree Sree Anandamayee Kalibari, Lakshmi-mandap, Sivabari Mandir, Garpara Mandir, Dautia Mandir, Sivabari Hindu Tirtha (sacred place).
Literacy rate and educational institutions Average literacy 51.57%; male 56.66%, female 46.54%. Educational institutions: college 9, law college 1, BED college 1, PTI 1, vocational institute 1, secondary school 43, primary school 107, kindergarten 30, madrasa 13. Noted educational institutions: Government Devendra College, Garpara Hafiz Uddin Degree College, Manikganj Government High School (1884), Manikganj Model High School (1918), Manikganj Model High School (1925), SWK Government Girls' High School (1930), Betila High School (1960), Khabaspur Lavanya Prava High School (1941), Hatipara High School (1967), Atigram Akul Chandra High School (1949), Lemubari Binoda Sundari High School (1949), Garpara High School (1959), Nabagram High School (1967).
Newspapers and periodicals Daily: Al-Azan (1992); weekly: Alor Bani (1981), Muktir Bahan, Karcha, Manikganjer Khabar (1995), Ababil (defunct), Manikganj (1972), Manikganj Barta (1981), Budhbar, Pataka, Chalaman (1980), Muktir Dak (1980), Navagram (1978), Jagarani (1965), Ritu-rang-man (1967), Abahaman (1978), Maitree International (1979), Bitap (1981).
Cultural organisations Library 4, club 130, women organisation 2, theatre group 17, jatra party 8, theatre stage 3, cinema hall 3.
Main sources of income Agriculture 43.43%, non-agricultural labourer 3.80%, industry 1.57%, commerce 16.30%, transport and communication 5.14%, service 16.65%, construction 1.68%, religious service 0.18%, rent and remittance 1.90% and others 9.35%.
Ownership of agricultural land Landowner 53.08%, landless 46.92%; agricultural landowner: urban 43.51% and rural 55.48%.
Main crops Paddy, wheat, jute, tobacco, potato, pulse, sugarcane, maize, oil seed, vegetables.
Extinct or nearly extinct crops Linseed, china, dabri, barley, kaun, pea, gram, sesame.
Main fruits Mango, jackfruit, banana, papaya, guava, coconut, palm.
Fisheries, dairies and poultries Fishery 15, dairy 332, poultry 649, hatchery 7.
Communication facilities Pucca road 102 km, semi-pucca road 30 km, mud road 309 km; waterway 16 nautical miles.
Extinct or nearly extinct traditional transport Horse carriage, bullock cart.
Noted manufactories Large scale industry 8, medium industry 6, small industry 402, welding factory.
Cottage industries Goldsmith, blacksmith, potteries, weaving, bamboo and wood work, tailoring, conch bangle industry, bidi factory, molasses factory, candle and agarbati factory, etc.
Hats, bazars and fairs Hats and bazars are 28, fairs 12, most noted of which are Joyra cattle market, Tora Biltu Smriti Hat, Dautia Hat, Atigram Hat, Barail Hat, Barai Vikra Hat, Ghosta Hat, Manikganj Bazar, Beutha Bazar, Bus-stand Bazar, Betila Bazar, Manikganj Bijoy Mela, Manikganj Rath Mela, Betila Rash Mela, Sivabari Mela, Panjankhara Baishakhi Mela, Garpara Imambari Maharram Mela and Krishnapur Nimai Chand Mela.
Main exports Paddy, wheat, flour, milk, pulse, oil seed, vegetables, bamboo, bidi.
Access to electricity All the wards and unions of the upazila are under rural electrification net-work. However 37.79% of the dwelling households have access to electricity.
Sources of drinking water Tube-well 87.50%, tap 8.64%, pond 0.29% and others 3.57%.
Sanitation 53.44% (rural 45.94% and urban 83.36%) of dwelling households of the upazila use sanitary latrines and 43.31% (rural 50.38% and urban 15.09%) of dwelling households use non-sanitary latrines; 3.25% of households do not have latrine facilities.
Health centres Hospital 1, upazila health complex 1, maternity and child care centre 1, eye hospital 1, clinic 7, satellite clinic 1, family planning centre 10.
Natural disasters Many people were victims of the famine of 1943. Besides, a number of people were victims of the tornado of 1985; it also caused heavy damages to settlements and other properties of the upazila.
NGO activities Operationally important NGOs are brac, proshika. [MA Ramzan]
References Bangladesh Population Census 2001, Bangladesh Bureau of Statistics; Cultural survey report of Manikganj Sadar Upazila 2007.