Manucci, Niccolao (1639-1717) Venetian traveller who toured different parts of India including Bengal and left behind a reliable description about the land and people. Born at Venice in 1639, he ran away from home at the age of fourteen on board a vessel bound for Smyrna in November 1653. Viscount Bellemont took him under his charge and moving through Asia Minor, they reached Surat by a ship from Hormuz in January 1656. Going through Bijapur, Golconda, Gwalior and Dholpur, they reached a place near Delhi where Bellemont suddenly died on 20 July 1656. Manucci went to Delhi and managed to get the post of gunner under Dara Shikoh. Manucci was present at the battle of Samugarh and fled at the defeat of Dara. He managed to join Dara at Lahore and after the fall of Bhakkar fort travelled to Bengal.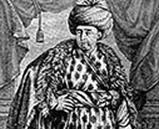 Manucci Travelled to Bengal sometime during the period 1662-63. He entered Bengal via Rajmahal through the river Ganges. According to him it took 15 days to reach Dhaka from Rajmahal. On the way he saw big boats Iaden with war booties sent by mir jumla from Assam. It is assumed that the place might be somewhere down stream from the confluence of the Padma and the Brahmaputra. How long Manucci stayed in Dhaka he has not mentioned. He could not meet the subahdar as he was busy in Assam on his invasion there. Mir Jumla captured Garhgaon, the capital of Assam, on 16 Sha'ban 1072 AH (17 March 1662 AD). He sent war booties that he had captured after the fall of the capital to Dhaka and Manucci had come across those in the river. So it can be surmised that Manucci's entrance to Dhaka followed the fall of the capital of Assam. Mir Jumla died at Khizrpur near Narayanganj on 2 Ramadan 1073 AH (30 March 1663 AD) and Manucci had left Dhaka for Hughli before that incidence. So he was in Dhaka for some time in between 17 March 1662 to 30 March 1663.
According to the narratives of Manucci Dhaka was not a very big city. The number of its inhabitants was quite large. Most of the houses were built of straw. Only two kuthis existed in Dhaka at that time one of the English and the other of the Dutch. Every year ships were loaded with fine white cotton (probably muslin) and silk fabrics. A large number of Christians and white and black Portuguese resided in Dhaka. Manucci met a British named Thomas Pratte who was appointed by Mir Jumla as an officer in the Mughal navy. Pratte used to collect war boats and procure gunpowder necessary for naval warfare.
It took Manucci forty days to reach Hughli from Dhaka through the Sundarbans. Manucci says that the Sundarbans was famous for tigers, wild buffaloes and hippopotamus and especially the tigers were dangerous. Manucci saw the boats sent by Mir Jumla and he relates that their sides were rather very high and queerly curved. Their shape and size were horrible to look at. Mancuui spent two months at Hughli. He says that the Portuguese had a centre of salt trade there. He has also mentioned that there were salt manufacturing factories at Sandwip. From Hughli Manucci travelled to Kasimbazar, a three days journey, where from he then started for Agra.
Manucci in his Travels mostly related contemporary events. In his narratives shah shuja, Mir Jumla and Magh-Portuguese piracy occurred prominently. The war between Shuja and Mir Jumla that Manucci related was not an eye-witness description, because at that time he was busy in war in western India. So to describe the warfare between Shuja and Mir Jumla he must have collected information from others. He mentions the Magh attacks in eastern Bengal and the Maratha incursions in western Bengal. Manucci reports that the Portuguese had their settlements in Chittagong and mentions Chittagong as a battleground bordering Bengal and Arakan.
Manucci says that shaista khan sent the revenue of Bengal collected by his predecessor Mir Jumla to the Emperor aurangzeb and it amounted to three hundred cart load of silver and fifty cart load of gold (coins). The traveller saw these personally on his return to Delhi from Bengal. In his second volume Manucci has provided a list of revenue collected annually from 24 provinces and in that list Bengal's share amounted to 4 crore rupees. In 1707 the amount figured at 5 crore 50 thousand.
On his return to Agra Manucci joined the services of Raja Jai Singh as a captain of artillery. Leaving the service of Jai Singh, Manucci moved to Goa and narrowly escaped inquisition in 1667. He then returned to the service of Kirat Singh, son of Jai Singh. In early 1671, he went to Lahore to start his practice as a physician. Around 1676, he made his residence in the Salcette Island. By that time he had lost his money. He came to Delhi, treated the wife of prince Muazzam (later on Emperor Shah Alam I) and on her recovery got the post of a physician in the court of the prince around January 1678.
In early 1683 Manucci left the service of the prince and reached Surat. Therefrom he went to Goa and served the cause of the Portuguese in their conflict with the Marathas. As a reward, the Portuguese knighted him. Meanwhile prince Muazzam compelled him to re-enter his service. After several attempts, Manucci managed to flee to the English at Madras in the second half of 1686. While visiting Pondicherry, he was induced to marry a catholic widow of Thomas Clarke on 28 October 1686. They had a son but the boy died soon after. He then returned to his medical practice and became widely known for his surgery and sale of stone and a medicinal liquid. He died at Pondicherry probably in 1717 at a ripe age.
In 1702 Manucci sent to Paris the first three parts of his manuscript through Deslandes, an official of the French East India Company. In 1705 the Jesuit Father Francois Catrou published at Paris a volume on the history of the Mughals in India with the confession that he had used the manuscript of Manucci lent to him by Dslandes. Manucci sent the last two parts of his manuscript to Europe between 1706 and 1712 and in 1715 Catrou produced the history of Aurangzeb confirming his taking the facts from the manuscript of Manucci.
The Berlin Codex as it was called contained three volumes. Vol. I begins from the voyage of Manucci and ends at the accession of Aurangzeb, showing the history since Taimur Lang. Vol. II deals with the wars of Aurangzeb till 1699 while Vol. III discusses the resources of the neighbouring princes along with the mention of remarkable events. Manucci stated that he had obtained the facts from official chronicles. But as to the period preceding shahjahan, these facts are merely bazaar gossips. It appears that Catrou had sent a copy of his Mss to Manucci, who had sent a strong letter of protest to the Venetian Senate along with Part IV, accusing Catrou of plagiarism. [Aniruddha Ray]
Bibliography William Irvine (tr and ed), Storia de Mogor or Mogul India 1653-1708, Indian reprint, New Delhi, 1981 (1st Ed 1907), 4 Vols.